Most of us can agree that artists are given a gift to create, using skill and imagination to make art that we can all enjoy. Art is typically in visual form that, in turn, allows the appreciators to be moved by the beauty and emotional power it may possess. What better way, then, to combine art with fashion into unique concepts that allows us to appreciate both. This article will highlight two companies, artTeca and Music to my Hair, and features Kate Wasserbach, an artist who grew up in this area and happens to design for Michael Kors. The result of all this fusion of creativity is incredible style.
Pieces of art in apparel
An online boutique, artTECA (artteca.com) is a women's ready-to-wear apparel and accessory brand, offering an exclusive collection of pieces that are printed with limited edition artwork by contemporary artists from around the globe. The line is a beautiful, curated collection of limited edition pieces. They fuse art and fashion to bring women the opportunity to shop unique and exclusive designs, while also making an impact in art education with each purchase made. This Miami, Florida company is owned by Flavia and Claudia Giardinella who went into business in 2014. The Giardinellas wanted to create something new that involved art but, at the same time, could help the community and empower women.
The duo began working with contemporary artists to create their line. They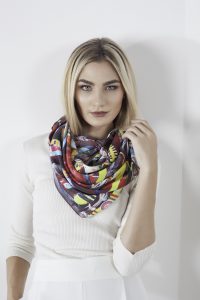 collaborate with the artists, choosing the artworks that work best with their planned collection and their fabrics. They then select the textile design stage to create the print and start the sampling process of the fabric. The majority of the fabrics are 100 percent silk.  Once the print is up to quality standards, it goes to production.
Since art is timeless, so is their designs, providing a classic and modern aesthetic so that each piece can be worn during every season and always be in style. Picture a pair of denim jeans, plain white tee, all made more chic by adding an artTECA scarf to the outfit.
arTECA has an all-women talented team, fueling each other from their creativity and passion for all of the arts. The collections resemble just that–the joy of living a colorful life, being unique individuals, and feeling beautiful, confident and empowered.
The customer base varies from young professional women to middle-aged women who are more entrepreneurial and have a family life. They buy artTECA because they fall in love with the concept, the quality of the piece and the opportunity, through their purchases, to help fund art education programs. Also the company receives a lot of customer comments on how good the clothing makes them feel, how comfortable the pieces are and how versatile they can be.  The scarves are unique and gorgeous and the tops and bottoms are comfortable and easy to wear. The company just introduced kimonos. The prices range from $80 to $200, reflecting the time, dedication, artistry and a very high-quality production that ultimately creates a collection piece. Just like a work of art. The clothes are made in the USA.
The arts meet hair styling
Created by artists for artists, Music to My Hair Salon and Advanced Academy is located on 1214 Troy Schenectady Road in Latham, owned by Asad  Alkurabi since September 2015 (musictomyhair.com).
Asad created a 3500-square foot space which brings artists, musicians and hair stylists all be under one roof.  The space also has a stage for local musicians, poets, educators, storytellers and even comedy shows to perform. The wall space is dedicated to local artists to showcase their work for approximately a three-month rotation so that other artists can have the opportunity to display their work.  The current artist installation is by Robert Gullie, a colorful, collage of interesting, beautiful and unique figures and shapes.
The goal of this company is to seek to inspire and nurture their clients, the staff and the community through art which leads to fashion. I met with Asad and Michelle Vargason, Salon Manager, to discuss this unique concept. Asad explained that Music To My Hair's stylists are inspired daily by the beautiful colors, shapes, and objects displayed before them and, as artists, they transform this beautiful energy into fashion. There are complete drum set chandeliers hanging from the ceiling and the space is so vibrant with color, warmth, art and, of course, hair stylist stations. They welcome the client with a greeting on the mirrors of the station—a very nice welcoming touch!
He said that giving back by hosting charity events, fundraising for good causes and allowing artists a space to showcase their art is very rewarding. The cultural events and artist exhibits are posted on the Facebook and Instagram sites. Recently, a collage class was led by the artist-in-residence Gullie. Cost for the performances, art classes and other local music and entertainment events, such as poetry, comedy shows and workshops, vary in price. Some classes and shows are free of charge.
Becoming a fashion designer
Kate Wasserbach grew up in the Capital Region and graduated from Shaker High School prior to graduating from Parsons School of Design in New York City. Her parents recognized her artistic talents at age 3 when she came home with a silhouette of the family members rather than the stick figures drawn by every other child in the class. She received encouragement from her teachers, which gave her confidence and assurance that it is okay to be different.  She has been a fashion designer for Michael Kors in NYC for the past several years.
Kate has a love for expression, observing that "the juxtaposition of an outfit is very similar to the juxtaposition of a subject on canvas." Art and fashion come hand in hand. It's simply putting together something that conveys what the artist or wearer feels or wants viewers to feel when they see their creations. An outfit is as just as much of a creation as a painting. Both are a form of expression. One of Kate's favorite quotes is "Fashion is like art—it's not supposed to look pretty, it's supposed to make you feel something."
She says she is more recognized for her style than her brush strokes. Fashion has allowed her to capitalize her talent, not hinder it. Understanding and accepting this challenge at such a young age really allowed her to build a flight plan for herself. She knew she needed to go to Parsons, because the school would give her the grounding to reach her aspirations to become a fashion designer. Her parents and, in fact, entire family are huge supporters. The days at Parsons were rigorous, with very little sleep but it was all worth it.
"The only advice I can give to someone who wants to become a fashion designer is to constantly stay interested and inspired and be as creative as you can be," Kate says. "Be bold, be different, color outside the lines. Start building your portfolio at a young age, don't take just fashion design classes, take art class; train your eye. Keep your head down, and don't look up until you get there. Because once you're there, it is the most rewarding job anyone can have and it is beyond worth it."
Hopefully the next time you see an amazing outfit, incredible hair style and an awesome dress, you will note that there is an artist behind each and every one of those looks!  Enjoy the arts, visit a museum, be inspired with all the beauty around us.