It's no big secret that Capital Region bars and restaurants have had an unbelievably tough 11 months. But one local business, Pint Sized, has deftly navigated the choppy waters of the pandemic, as its owner, August Rosa (pictured at left), has calmly steered the ship.
In 2014, Rosa, a College of Saint Rose graduate, first opened Brew, a retail beer and coffee shop in Albany. On the heels of its success, he opened a second location in Saratoga Springs three years later—this one with an on-premises bar—and rebranded the business Pint Sized. By 2018, Rosa moved the Albany location into a space with a bar, too, and quickly had a pair of popular destinations for Capital Region craft beer consumption, as well as grab-and-go can and bottle sales. Another year and change of success rolled by, and then COVID hit.
So, what exactly has owning a bar been like during the pandemic? "Hell," Rosa says. "That's the most abstract version of it." But then he backtracks a bit: "It actually wasn't that bad." That attitude of rolling with the punches, no matter how bad things get, is a large part of why Pint Sized got through this past year. Last March, when bars and restaurants were forced to close to in-person dining, Pint Sized remained open for to-go sales. In the weeks that followed, Rosa continued finding ways to pivot his business. He offered virtual parties through Zoom, launched a delivery service, partnered with other local businesses and even began selling prepackaged Jell-O shots. He also donated a percentage of delivery sales and 100 percent of delivery tips for a week in June to Black Lives Matter organizations. And then the fun really started.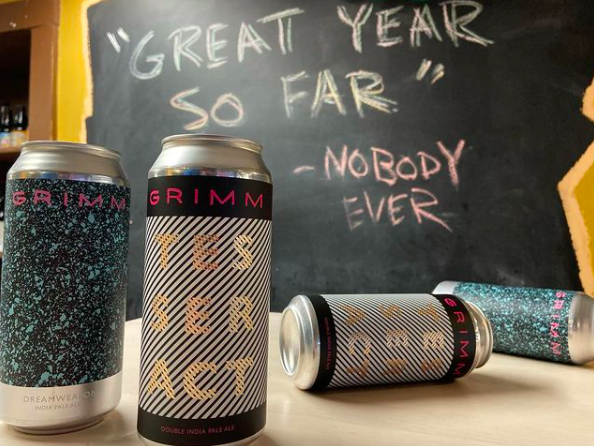 Prepared to follow every one of the state's COVID rules to a tee, Pint Sized first reopened its patio and then dining room in June. And when New York Governor Andrew Cuomo announced that all on-premises alcohol sales had to be accompanied by food, Pint Sized, which had always had food available, began requiring customers to sit down with a $1 bowl of a canned delicacy of their choosing, such as chili or SpaghettiOs. Operations went fairly smoothly until October 7, when Pint Sized was slapped with a $1,500 State Liquor Authority (SLA) fine for not offering "substantial" enough portions of food when undercover investigators visited its Saratoga location back in August. Unfazed and in typical Pint Sized fashion, Rosa launched a campaign to recoup the lost money, selling T-shirts that read "I supported Pint Sized during COVID and all I got were these lousy beans," with a picture of beans in a paper bowl on them. T-shirt sales raised $1,500 in just 30 hours.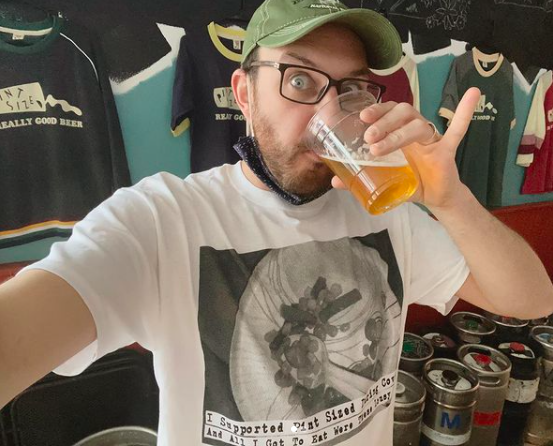 "I've gathered from 2020 that it was a year for forgiveness and flexibility," says Rosa, who fully owns up to his business' mistake. "People were willing to try whatever they could to enjoy the year as best they could. So we used it as a ground to test and experiment and try new things, because what's the worst that could happen? When you hit the lows that we hit last year, it's like, how much worse can it really get? You end up having nothing to lose, so you might as well give everything a shot."
If you're wondering, nowadays, Pint Sized has substantially upgraded its grub, offering chef-made pickle plates and hot pretzels for in-person diners. (Ironically, Rosa had hired a chef late last August, after the SLA investigators had been there, but before Pint Sized found out about the fine.) Rosa is continuing to offer beer delivery services and recently launched a mystery four-pack subscription for the months of January and February. Both Pint Sized locations even remained open on December 17, the day the Capital Region got hit with 2.5 feet of snow, and a few days later, a Saratoga customer built a bench out of the snow so he could hang out outside the location. "We're just trying to make ourselves accessible in any capacity," Rosa says. "We'll sell beer however people want it. We'll sell it to go, we have bar seating, we have outdoor seating. In the winter, people are sitting in the snow. Whatever we're allowed to do, we're going to do it."