University towns are known for having vibrant, diverse communities, and because of their student populations, they're also places where you can always find lots of sports games, great food and plenty of live, local music—a great base for a weekend away but by no means all that these gorgeous weekend hotspots have to offer.
And no one ever said you have to matriculate to participate! College towns can be great places to visit to stimulate the body, mind and soul during these quiet winter months—no matter the traveler's age. In fact, some of the top places to visit around the state of New York have been made famous by their colleges and universities but are brimming with winter wonderlands, year-round cultural attractions and, of course, wintery outdoor activities for all levels.
ITHACA
Ithaca, home to Cornell University and Ithaca College, just may be the quintessential college town. Located in the center of the state near the southern tip of Cayuga Lake, it offers intimate charm and natural beauty (those gorges are gorgeous in the winter, too!) in nearby Buttermilk, Treman and Taughannock Falls state parks.
Yes, there are plenty of students taking part in its busy music and art scene, but there's more than enough room in Ithaca for everyone else to enjoy great restaurants and shopping, too. Locals love the Bike Bar, Viva Taqueria and the cool Moosewood Restaurant that's located in a converted former high school.
Just outside of town, there are waterfalls (more than 100 within a 10-mile radius of town), great winter hiking and picturesque farmland. And don't miss the I.M. Pei–designed Herbert F. Johnson Museum of Art and the huge Cornell Botanic Gardens, most of which is open year-round. 
BROCKPORT
The tiny village of Brockport is part of the town of New Sweden and home to SUNY Brockport.
The Erie Canal runs directly through Brockport, and the canal boardwalk is a popular spot to stroll and dine. Main Street is dotted with historic buildings and charming shops—you could get lost for hours in Jill's Antiques & Collectibles alone. Or go really retro and visit the Strand Theater, an old-time movie theater that still uses its original marquee. Corbett Park is lovely, and don't overlook what's happening at the university. There are always plenty of fun cultural activities available to students and the visiting public.
HYDE PARK
This Dutchess County hamlet might not be thought of as a typical college town, but Hyde Park is home to the Culinary Institute of America—one of the world's most prestigious schools dedicated to gastronomical artistry. 
Hyde Park's most famous residents by far were Franklin and Eleanor Roosevelt, who are buried at Springwood—the Roosevelt ancestral home that's now a National Historic Site. The area is sprinkled with the former homes of Gilded Age nobility, starting with Frederick William Vanderbilt's spring and autumn mansion (doesn't everyone have a mansion to match the season?), a stunning Beaux-Arts masterpiece. The grounds are open year-round, and the home itself re-opens Sunday, January 15 after a short winter break.
There are also breathtaking views of the Hudson River on Hyde Park's many hiking trails, and nearby Beacon has an array of fantastic restaurants (this is aspiring chef country, after all) and shops. For a unique experience with a furry new friend, try the Clover Brooke Farm's llama and alpaca hikes, which offer limited spots year-round for guided walks through the bucolic, 25-acre Hudson Valley farm. 
SYRACUSE
This city is so much more than the 13 schools that compose Syracuse University and Le Moyne College.
Aside from great downtown restaurants and shopping, Syracuse is near Seneca Lake—the largest of the Finger Lakes—and home to perhaps the best wineries in the state. Beer lovers won't be overlooked—Syracuse is home to a lot of craft breweries, too.
For live theater, check out the Syracuse Stage and the Central New York Playhouse, and make sure to visit the Erie Canal Museum and the Milton J. Rubenstein Museum of Science & Technology and its cool planetarium.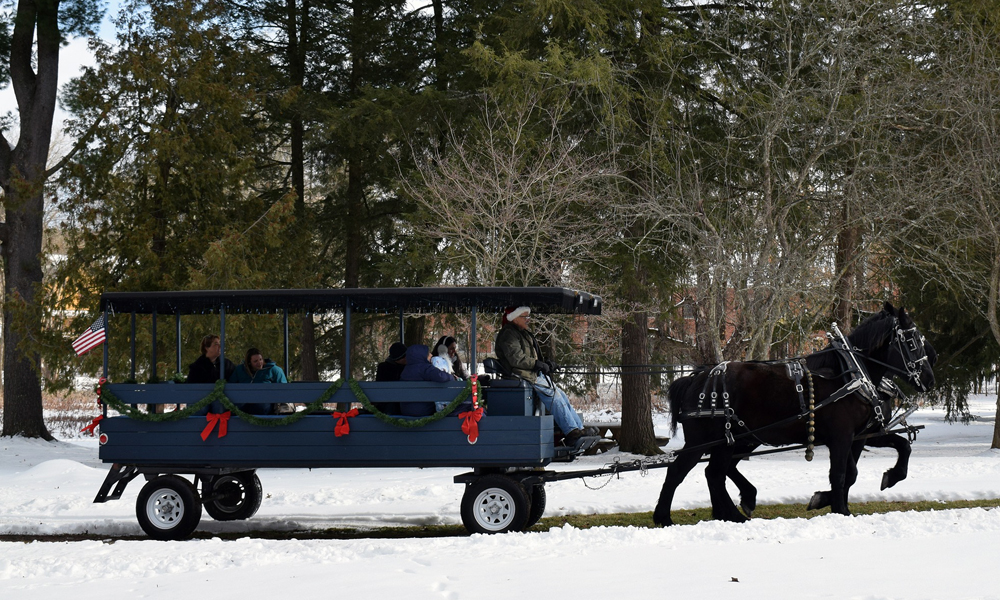 NEW PALTZ
This pretty little town in Ulster County is the home of SUNY New Paltz, and its proximity to history and nature make it particularly appealing for non-collegiate weekenders, too. Start at the Historic Huguenot Street district (by appointment only in winter), which includes a reconstructed 1717 French Church, the Huguenot community's original burying ground, and a replica Esopus Munsee wigwam.
The Wallkill Valley Rail Trail is perfect for a winter nature walk, and the 8,000-acre Mohonk Preserve (the largest private nature preserve in New York State) is open year-round—you won't want to miss those spectacular views of the Hudson Valley. While you're there, check out the famous Mohonk Mountain House resort (day passes are available in advance), which is a bona fide winter wonderland this time of year—frozen lake, snow-covered forest and all. Guests can throw themselves into winter activities with the help of a well-equipped ski shop team.
After all of that exercise, relax with a glass of wine at the Robibero Family Vineyards, or grab a cider and pizza at Twin Star Orchards.
CORTLAND
This former mill town is now home to SUNY Cortland. It's well known for its golf courses and the J.M. McDonald Sports complex, but if your idea of working out on vacation is lifting a knife and fork, don't miss the Trinity Valley Dairy (and its petting zoo), and the excellent Homer Hops brewery, where there is often live music to accompany the craft brews.
Cinch Art Space is home to more than 50 local artists, making it the best one-stop shopping experience in town. Venture nearby to check out the Corning Museum
of Glass and ski at Greek Peak.