Yes, this is a travel column—and that's why I've taken you all over New York State this past year, on a pandemic-safe adventure to as many of its 62 counties as possible. But there's nothing like going home for the holidays, and for me, that's Albany County. I've spent many Christmases abroad, but there's nowhere I'd rather be, this year or any, for that matter, than curled up in front of the fireplace at my childhood home in Menands.
While I'm sure some of you are probably itching to fly off to a warm, exotic place and put the winter behind you, there's definitely a power in returning home to the traditions, gatherings and events you had to put on hold (or do virtually) last year. Here are six of my favorite holiday-themed activities in (or right outside of) Albany County.
1. Capital Holiday Lights in the Park in Albany
File this one under "Christmas traditions I can't let go of." I have such fond memories of childhood drives through Lights in the Park, the display of megawatt holiday cheer that takes over Washington Park, for the duration of the holiday season. (At press time, the coming winter's 25th anniversary Lights in the Park was set to be the last, at least in the Albany park.) The best part, at least lately? It was socially distanced before that was even a thing, because you never leave the coziness of your car. Remember to bring along a thermos of hot cocoa and your favorite holiday playlist.
2. Capital Region Christmas Concerts
We are so lucky to be surrounded by a number of incredible performing arts centers in the Capital Region—and once again be able to enjoy the magic of a live performance together in the same room. My favorite venue of them all—perhaps because it's all of eight minutes from the house I grew up in—is The Palace Theatre and its top-notch annual holiday-themed fare. This year, that includes The Magic of Christmas and The Nutcracker, both from the Albany Symphony, on December 5 and 11, respectively; and Trailer Park Boys 20th Anniversary Sunnyvale Xmas on December 17.
3. Festival of Trees in Schenectady
Another festive must-do: Coast through charming Downtown Schenectady (and tick off Schenectady County!) for its Festival of Trees. Various local groups "adopt" and decorate trees with extravagant themes to raise money for the Schenectady County Historical Society and the YWCA NorthEastern NY. Make sure to have everyone in your group vote on his or her favorite, and let it be an inspiration to your own home décor!
4. Christmas Land in Altamont
Back in Albany County, a relatively new addition to the Capital Region holiday scene is Altamont's Christmas Land, which has preemptively (and quite enthusiastically, I might add!) confirmed its 2021 season. Christmas Land offers an array of holiday treats, including photos with Santa and horse-drawn sleigh rides on Saturdays and Sundays from November 27–December 19. Can't make it in person? Christmas Land has gifted Santa a new quill and gotten him all set up on Zoom, so that the jolly old fellow can not only send out personalized letters, but also do virtual calls.
5. The Victorian Stroll in Troy
You don't have to travel too far to go back in time. About a half-hour away from Altamont in Downtown Troy (i.e. Rensselaer County) is the site of the annual Troy Victorian Stroll, which was reimagined last year as "Stroll Season," for a pandemic-safe, socially distanced community holiday celebration. While at press time, 2021's plans have yet to be announced—though it will start up on December 5—the Collar City is guaranteed to be a beautiful and festive place to shop for locally crafted gifts, grab a bite and soak in the holiday hoopla.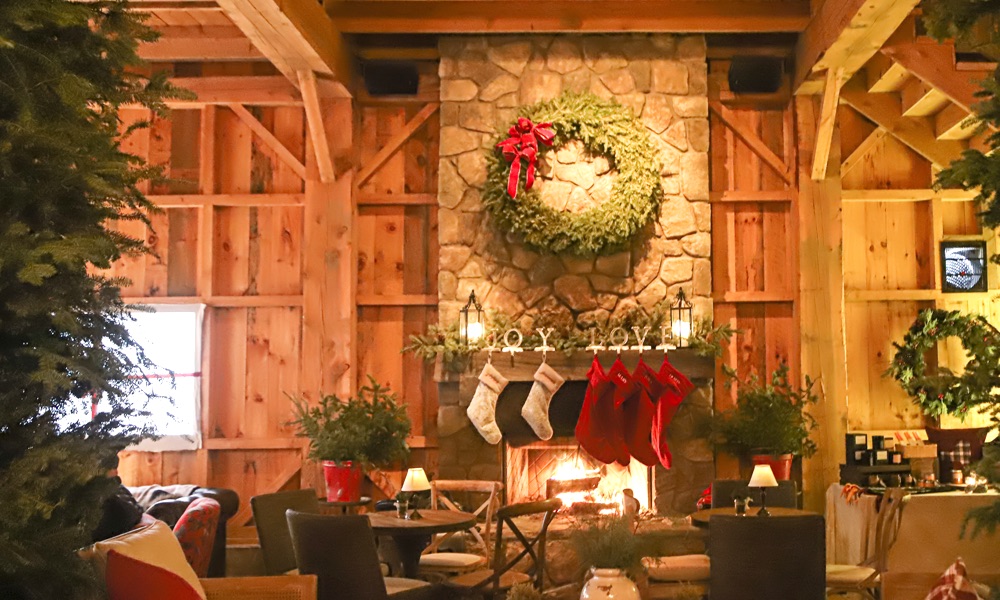 6. June Farms inWest Sand Lake
If you haven't made it out to June Farms in West Sand Lake (also in Rensselaer County), you are in for a real treat. Just a 20-minute drive from Downtown Troy, it's quickly become one of my favorite places to celebrate every festive day of the year. While at press time, the farm hasn't yet revealed its lineup of events for the holiday masses—be sure to check its Instagram page, @junefarms, for monthly updates—I can give you a snapshot of last year's goings-on. The farm hosted a Christmas-themed local artisan market, complete with Santa for the kiddos and a gorgeous menu of seasonal cocktails, including fresh twists on mulled cider and spiked eggnog, for the grownups.