Check out Capital Region Living's 2021 Summer Product Guide, which features a number of fun products that fit any lifestyle. Now, get out there and crush the summer!
Bluegrass Hive & Honey – Gentlemen! You can feel and look your best too with this new and natural men's grooming brand! Made from locally-sourced Bluegrass beeswax, this men's beauty brand is giving men the ability to have the best beards yet. They have personally handcraft their premium beard oils, beard balms and beard waxes and methodically select ingredients to create products that help hydrate, strengthen, condition and protect your beard and skin.
French Blue Wine – Stephanie Rivin set out to do something new: put an American twist on French rosé. This intriguing blend has the fresh-cut flavor of watermelon, strawberry and cherry. It's dry and drinkable, with a crisp, refreshing finish. It's ideal for a drawn-out lunch, a gathering of friends or reading by the water on a hot day. It gives you the feeling of the best kind of Sunday afternoon: relaxed, bright and cheerful.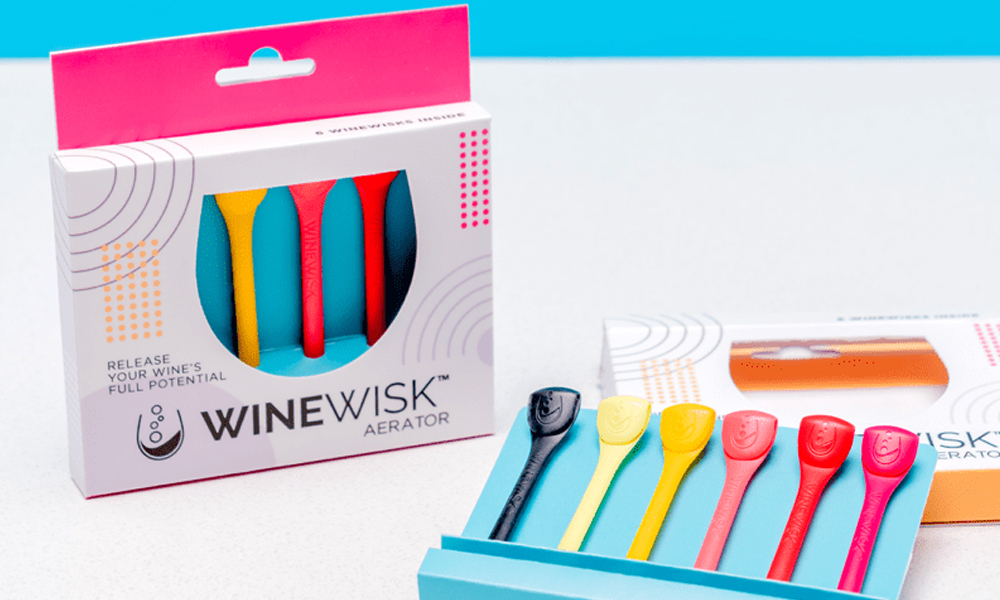 WINEWISK – The WINEWISK makes for the perfect addition to any glass of wine. Everybody knows that proper wine needs time to breathe in order to bring out luscious flavors and aromas that make every sip more enjoyable, and WINEWISK created a solution with three quick steps. The newest aerator on the market also doubles as a wine charm, ensuring everyone can keep track of their own glass.
Swissdigital Designs – Planning to travel this summer? Check out Swissdigital's antibacterial travel backpack and kit, with outer material and inside materials that help reduce germs. The pack also features a USB charging port where you can charge your phone and other electronic devices (the portable battery pack is not included). The pack also features Radio-frequency Identification (RFID) protection pockets that protect your personal information from being stolen by an RFID scanner.
Equo – Equo's line of straws are designed to harness the raw power of Mother Nature by replacing single-use plastics. These straws provide a variety of truly eco-friendly solutions with products that are 100 percent natural, plastic-free, nontoxic, chemical-free, and biodegradable and compostable. Equo's lines include rice straws, which are made from rice and tapioca starch; coconut straws, produced from fermented coconut water; sugarcane straws, created from sugarcane fiber; and dried grass straws, fashioned from grey sedge grass.
Chalkfulloflove Grapefruit Bamboo Candle – This candle has a fresh, citrus scent with a hint of some floral notes. Burn it in the kitchen with the windows open and some happy music on the playlist. Nothing quite sets the mood for summer like a fresh smelling candle!
TAO Clean – TAO Clean's brushes use 40,000 tiny brush strokes per minute to sweep away plaque and gently polish away surface stains. But what really sets it apart from competitors? The company's Clean Base Station, a unique enclosed charging base for the toothbrush handle and brush head that also cleans and dries the brush head. Once you dock your damp toothbrush after use, the 360-degree TAO Clean Halo uses powerful UV-C rays to kill 99.9 percent of bacteria, and then the built-in dryer wicks away any moisture from the brush to ensure that no germs or bacteria stand a chance.
Elementa – Elementa's revolutionary, non-burning oral care delivers much-needed calcium and Xylitol directly to your teeth. It uses cutting-edge Nano Silver to bust through your plaque barrier and neutralize oral acid. The Nano Silver particles also target bacteria that emit sulfur gas and cause bad breath. Elementa also helps in immediately neutralizing cavity-causing acid.
Dr. Cuddles – Dr. Cuddles' products are vet-formulated, dermatologist-tested and pet-parent approved. The company offers medicated pet cleaning and wellness products that deliver visible results. Discover its line of all-natural, medicated pet products designed to empower the lives of modern pet parents like you.
City Bonfires – A portable, reusable mini bonfire that you can take on all of your outdoor adventures. A 4 inch by 2 inch round metal tin that is filled with non-toxic soy wax. Unlike other soy wax-based products, City Bonfires entire surface becomes the flame – creating a mobile heat source – a mini bonfire!
Stella Rosa – We are not just about producing award-winning semi-sweet, semi-sparkling Italian wines, it's about evolving with the spirit of the times when it comes to wine trends and popular culture. Our first wine was Moscato D'Asti, which has become a flagship of this line, Soon after, Stella Rosa Rosso was created The rapid phenomenal successes of these two wines began the lineage of Stella Rosa, which now boasts over 20 distinctive flavors.
Matcha Kari – Matcha is the ultimate form of green tea. For more than a thousand years, Zen monks, Samurai warriors, and Japanese connoisseurs have enjoyed the health benefits of this whole-leaf tea. From calming effects to increased cognitive performance, matcha helps improve health and well-being.

NanoCraft CBD – We utilize only the highest quality ingredients and our products are scientifically engineered with athlete's performance needs in mind.. NanoCraft's products are formulated to be highly bio-available to the body, making you capable to receive benefits in their most concentrated form. Zero wasted nutrients and dramatically better absorption. In short, faster, better, more concentrated results.

WildBloom Skin Care – We are dedicated to creating products that allow people to make healthier, safer and more informed choices. We believe that your skincare routine should be simple – with fewer steps that achieve lasting results and formulated with minimal ingredients that are so pure, you can feel good about using them on the whole family. Discover our passion for pure.

Floral Street – 'Powered by flowers', the scents are designed to bring bold and beautiful bursts of color and fragrance to happy interiors. Luxurious, cruelty-free, and made sustainably, the thematic collections of home products were created to put forward contemporary florals in residential spaces with an environment-first approach.
Soo'AE (SOO-WAY) – Green, Clean K-BEAUTY products that are vegan, natural, and cruelty free from skin to hair. Ingredient focused and affordable, Soo'AE blends luxury and affordability while pioneering new and innovative approaches to skincare.
Freedom – Be Healthy, Not Stinky! Eliminate your odor for 24 hours with our advanced, natural formula that's clinically proven to be effective. It works by killing odor-causing bacteria BEFORE it gets on the skin. This is the ideal choice to keep your skin healthy because we only use clean, safe ingredients and leave out artificial junk like aluminum and parabens. We're getting you healthier and less stinkier one armpit at a time