FOOD & DRINK
Bold-Winner • Italics- Finalists
APPETIZERS
Aperitivo Bistro 426 State Street, Schenectady
Sausage sliders with house-made sausage, smoked mozzarella and sautéed peppers and onions or perhaps you'd like ricotta meatballs or seasoned kettle chips with creamy parmigiano dressing. Those are just some of the intriguing appetizers that make Aperitivo Bistro number one for our readers and their taste buds in this category.
New World Bistro Bar 300 Delaware Avenue, Albany
The Shop 135 Fourth Street, Troy
APPLE PIE 
Smith's Orchard Bake Shop 4561 Jockey Street, Ballston Spa
People don't just say "I'll bring an apple pie." They specify "I'll bring a Smith's apple pie" to show how special dessert will be. You know it will as you drive in and see the apple trees and visit the bake shop. It's the real thing and, of course, a repeat "Bestie" for apple pies.
Emma Cleary's Cafe 1926 New Scotland Road, Slingerlands
tied with
Lakeside Farms 336 Schauber Road, Ballston
Lake Indian Ladder Farms 342 Altamont Road, Route 156, Altamont
BAGELS 
Bagel Tyme Multiple locations
The bagels are really good every time, declare customers at Bagel Tyme, which has locations in Valatie, Hudson and Greenport. Fresh, tasty, fluffy, thick are other descriptions. They like the many options, too, including slathered in cream cheese.
Pyschedelicatessen 275 River Street, Troy
Uncommon Grounds Multipe locations
BAKERY
Bella Napoli Italian American Bakery & Cafe 672 New Loudon Road, Latham 721 River Street, Troy
It's no surprise that Bella Napoli once again earns a "Bestie" for bakery. Stop in and get a feast for the eyes. You'll surely want one of everything and vow for multiple return visits.
Schuyler Bakery 637 Third Avenue, Watervliet
Villa Italia 226 Broadway, Schenectady
BBQ – OVERALL
PJ's Bar-B-QSA 1 Kaydeross Avenue West Saratoga Springs
Capital Region residents and visitors go to Saratoga for some special adventures. One of them is to visit PJ's Bar-B-QSA, which aptly is tagged as a "Taste Tour of American Barbeque," with opportunity to select your favorite flavor from across the country. Lucky for us, this repeat "Bestie" is open year round.
Brooks' House of BBQ 5560 State Highway 7, Oneonta
Warehouse Grill & BBQ 219 Wolf Road, Albany
BREWERY
Brown's Brewing Company 417 River Street, Troy
Brown's, opened in 1993, was a groundbreaking brewery restaurant in Capital Region that since has seen the blossoming of breweries. But Brown's continues to be a hit, creating new award-winning brews, keeping offerings and amenities at its restaurants/taprooms fresh and as social hubs.
CH Evans Brewing Company at Albany Pump Station 19 Quackenbush Square,
Albany Crossroads Brewing Company 21 Second Street, Athens 201 Water Street, Catskill
BEST KEPT SECRET – RESTAURANT
DeMarco's Restaurant 1965 Central Avenue, Colonie
Customers describe delicious Italian food, including great garlic breads, tasty meatballs and more, served in generous portions in a friendly atmosphere where you're treated like family. We are delighted that readers shared their favorite in our best-kept secret category. Not any more!
Restaurant Navona 289 New Scotland Avenue, Albany
Veronica's Culinary Tavern 186 Main Street, Altamont
BLOODY MARY (TIE)
The Century House 997 New Loudon Road, Latham
tied with
The Shop 135 Fourth Street, Troy
The Century House is a special place for our readers. And they say it's extra special when sipping a Bloody Mary there. The Shop creates this concoction from its own recipe. One ingredient is "a lotta love." The result is mmm-good.
Café Madison 1108 Madison Avenue, Albany
Risotto 320 Northern Boulevard, Albany
BISTRO
New World Bistro Bar 300 Delaware Avenue, Albany
Add another Bistro "Bestie" to the award-winning New World Bistro where there is global cuisine and local pride (and local sourcing). This popular place's creative menus not only satisfy but prompt rave reviews: "such a great blend of flavors" "I was blown away"; "many choices to suit all tastes"; and, of course, "we'll be back!"
Sage Bistro 2050 Western Avenue, Guilderland
Garden Bistro 24 1207 Troy Schenectady Road, Latham 5 Vista Boulevard, Slingerlands
BREAD
Perreca's Bakery 31-33 North Jay Street Schenectady
Perreca's is a legend in Capital Region and beyond for its bread. Visitors including performers have been known to make Perreca's a must-go for its Italian bread – the same thick-crusted nutty flavor recipe brought over from Italy by the family in 1913 and created in a coal-fired brick oven. Perreca's notes that that since then, there's hardly ever time for that oven to cool down. No wonder it's a repeat "Bestie."
Bella Napoli Italian American Bakery & Café 672 New Loudon Road, Latham 721 River Street, Troy
Bountiful Bread 1475 Western Avenue, Albany
BREAKFAST 
Latham '76 Diner 722 New Loudon Road, Latham
Consistently good, plentiful, and well-prepared. Those are some of the descriptions from customers at Latham '76. It's a friendly comfortable place for family meals or meeting with colleagues. Folks like the many options on the breakfast menu. You can have breakfast all day at this 24/7 diner.
Capital City Diner 1703 Western Avenue, Albany
Alexis Diner 294 North Greenbush Road, Troy
BRUNCH
Iron Roost 36 Front Street, Ballston Spa
The Iron Roost has become a very popular place for brunch so we aren't at all surprised that it has gained a "Bestie" in this category. A frequent decision is what to put on your waffle or you may make another choice for your brunch, which will come with a waffle wedge. Creativity is appreciated. Customers enjoy the cozy atmosphere and delicious food – or as one visitor commented, "wafflrific."
Peaches Café 1475 Western Avenue, Stuyvesant Plaza, Albany
Café Madison 1108 Madison Avenue, Albany
BURGER
Ale House 680 River Street, Troy
tied with
Crossroads Brewing Co. 21 Second Street, Athens 201 Water Street, Catskill
As the repeat winner, Ale House, customers enjoy the fresh eight-ounce burgers cooked to order. The Crossroads menu offers "Nothin' but the Burgers" but the tasty choices, with locally sourced beef, are anything but 'nothin'.
Crave 217 Western Avenue, Albany
Capital City Gastro Pub 261 New Scotland Avenue, Albany
CAKES
Zachary's Pastry Shoppe 390 Columbia Turnpike East Greenbush
Cakes and pastries should taste as good as they look, Zachary's believes and their customers proclaim that they do indeed at this family-owned shop. That's why it's a repeat "Bestie." Customers praise the attention to meeting requests and the butter cream frosting is a frequent favorite.
Cocadotts Cake Shop 1179 Central Avenue, Albany
Bella Napoli Italian American Bakery & Cafe 672 New Loudon Road, Latham 721 River Street, Troy
CALAMARI
Yanni's Too 20 Marina Drive, Coeymans
Capital Region diners have once again named Yanni Too the "Bestie" for calamari and tell us that there is a very good reason that Chef Yanni is known as the "Calamari King." Light and flaky breading, tender, different types of tasty sauces and all delicious (you can have an order of all four to avoid having to make a hard choice).
Angelo's Prime Bar & Grill 30 Clifton Country Road, Clifton Park
Casey's Restaurant 77-79 Washington Avenue, Rensselaer
CHEESECAKE 
Blue Ribbon Restaurant and Bakery 1801 State Street, Schenectady
tied with
Nuns of New Skete 345 Ashgrove Road, Cambridge
Blue Ribbon Diner again gets a "Bestie" with customers saying "best cheesecake anywhere" and "simply heavenly."And there are lots of varieties. The Nuns of New Skete are known for awesome cheesecakes in so many varieties that you will want to try them all; thankfully, a sampler is among the choices.
J&S Watkins Homebaked Desserts 1675 Route 9, Clifton Park
Cheesecake Machismo 293 Hamilton Street, Albany
CHICKEN WINGS 
Towne Tavern 2850 NY 43, Averill Park
Ten jumbo wings turned slowly in the smoker for just a hint of smoke, then deep fried and tossed in the sauce of your choice – check out those choices! Doesn't that sound good? Well, that's why Towne Tavern is tops with our readers for chicken wings. People are quick to suggest their favorite but equally quick to add that any flavor would be wonderful.
The Ruck 104 Third Street, Troy Ale House 680 River Street, Troy
tied with
Rusty Nail 1781 Route 9, Clifton Park
CHILI
Gracie's Luncheonette 969 Main Street, Leeds
tied with
Otis & Oliver's 30 Mill Road, Latham
The thing that I have come to love best about Capital Region Living and its "Besties" readers' poll is that a small operation in Leeds NY can win some category over bigger operations. Gracie's is an institution in that area for scratch-made food. Everything is touched with love and human hands to make the now award-winning luncheonette in the chili category. Otis & Oliver's is an annual winner for very awesome white chili. Top secret ingredients make this chili an unbelievable and unbeatable choice for the Capital Region Living voters. A tall cold beer and a bowl of chili just may make heaven's menu board!
Bountiful Bread 1475 Western Avenue, Stuyvesant Plaza, Albany
The Orchard Tavern 68 North Manning Boulevard, Albany
CHOCOLATE SHOP/CANDY STORE 
Uncle Sam's All American Chocolate Factory 2571 Albany Street, Schenectady
594 New Loudon Road, Newton Plaza, Latham
Looks great, smells yummy, tastes delicious, our readers say. Whether stopping in for special occasion selections or just because, they enjoy the classics, as well as special shapes and flavors. Uncle Sam's more than lives up to its name and, of course, is a repeat "Bestie."
Verdigris Tea & Chocolate 291 Main Street, Catskill
Krause's Homemade Candy 1609 Central Avenue, Albany
CHOWDER 
Yanni's Too 20 Marina Drive, Coeymans
Award-winning chowder from Yanni's Too can be a meal in itself. It is that good and worth the trip from any place in the Capital Region. A summer's night and a bowl of Yanni's chowder can make your summer complete, not to mention your stomach very happy.
Saratoga Race Course 267 Union Avenue, Saratoga Springs
Jack's Oyster House 42 State Street, Albany
CIDER DONUTS
Golden Harvest 3074 Route 9, Valatie
A multiple-year repeat "Bestie" in this category, Golden Harvest sets the gold standard for cider donuts. With cider pressed on site from their own apples, these hot and flavorsome donuts are super awesome, our readers rave.
Cider Belly Doughnuts 25 North Pearl Street, Albany
Riverview Orchards 660 Riverview Road, Rexford
COFFEE
Wired 2443 Route 9, Malta 652 Albany Shaker Road, Albany
Coffee is so in right now. It seems everyone is becoming an expert, much like wine. When you get a cup at Wired, no matter what your taste, you can be assured that it is the best you're going to get locally! You don't need to be an expert to appreciate great coffee. Uncommon Grounds Multiple locations
Tierra Farms 2424 State Route 203, Valatie
COOKIES
Bella Napoli Italian American Bakery & Cafe 672 New Loudon Road, Latham 721 River Street, Troy
Bella Napoli Bakery is one of those great Capital Region places that wherever you may move or travel in the world, when it comes to wanting great cookies, you will come home to get them. Our children grew up on them and we adults love to indulge with them. We are so lucky to have such a quality family-owned and operated business such as Dom and team at Bella Napoli.
Cookie Factory 520 Congress Street, Troy
Dolce & Biscotti 1758 Route 9, Clifton Park
COMFORT FOOD
Chicken Joe's 486 Yates Street, Albany 506 Campbell Avenue, Troy
Chicken Joe's on Yates Street in Albany is a new winner for us in the Capital Region Living "Bestie" poll. From what I hear, it will not be the last time they win in the comfort food category. When you do something so well, you are bound to be recognized. Congratulations, Chicken Joe's.
Lakeview on Crystal Lake 4 Old Route 66 (Route 43), Averill Park
tied with
Tipsy Moose Tap & Tavern 185 Old Loudon Road, Latham
Hattie's Restaurant 45 Phila Street, Saratoga Springs
CUPCAKES 
Coccadotts Cake Shop 1179 Central Avenue, Albany
Cupcakes make me smile but it's a grin that lasts all day when these little sweet treats come from Coccadotts. Our readers agree and once again name Coccadotts the "Bestie" in this category. But we have a problem: How do we make a selection from all those luscious creations? Simple: Return visits.
Dolce & Biscotti 1758 Route 9, Clifton Park
Bella Napoli Italian American Bakery & Cafe 672 New Loudon Road, Latham 721 River Street, Troy
CUTTING EDGE RESTAURANT 
Dancing Ewe Restaurant 181 County Route 12, Granville
Now this is what we had in mind when we created this category for our readers' poll here at Capital Region Living. The Dancing Ewe is an authentic Tuscan-style family farm in Granville, crafting impeccable, fresh cheeses and meats. The very unique farm-to-table serves weekend dinners and lunches. The name is not only very cool, the operation is run perfectly and the service and all–important products they produce are wonderful.
Peck's Arcade 217 Broadway, Troy
The Shop 135 Fourth Street, Troy
DELI
Gershon's Deli 1600 Union Street, Schenectady
To walk into Gershon's is to walk into a Manhattan deli, without the crowds that can suffocate you and the prices that can finish killing you off. The Gershon's family legacy is great deli food at Capital Region prices. Love, love, love them.
Miranda's Deli 52 Columbia Street, Albany
Capri Imports Italian Deli & Catering 2617 Broadway, Schenectady
DINER
Alexis Diner 294 North Greenbush Road, Troy
Over the river for many, Alexis Diner is always well worth the trip. The service, the food and the cleanliness of the restaurant are amazing. Some diners have great breakfasts, some great lunches or dinners. Alexis is great every moment of the day.
Latham '76 Diner 722 New Loudon Road, Latham
Capital City Diner 1709 Western Avenue, Albany
DISTILLERY
Albany Distilling Company 78 Montgomery Street, Albany
The Albany Distilling Company came together with its excellent team in 2011 and launched the following year, making this a very young success story, which our readers love. Whether the whiskey or the rum, this distillery is a winner.
Yankee Distillers 5 Fairchild Square, Clifton Park
Golden Harvest 3074 US Route 9, Valatie
FAMILY-OWNED RESTAURANT 
Ferrari's Ristorante 1254 Congress Street, Schenectady
The Ferrari family birthright is the ability to create and serve Italian food but their talent for creating the Italian food like many of us grew up on is pure talent! Once again, a trip from anywhere in the Capital Region is just what is ordered when you want to step back in time and taste awesomeness.
Cornells in Little Italy 39 North Jay Street, Schenectady
Verdile's Restaurant 572 Second Avenue, Troy
FINE DINING 
677 Prime 677 Broadway, Albany
tied with
Lake Ridge Restaurant 35 Burlington Avenue, Round Lake
Fine dining equals 677 Prime in all respects—exquisite food, preparation perfection, attentive service and ambiance. The ride and the setting at Lake Ridge Restaurant are so great. The food, whatever you choose, is prepared expertly. Lake Ridge is another of our perennial winners and that illustrates how wonderful they are.
15 Church 15 Church Street, Saratoga Springs
Chez Nous 707 Union Street, Schenectady
FISH FRY
Ted's Fish Fry
Multiple locations
Travel the world and ask this question of anyone who has lived or visited the Capital Region: What's a fish fry? They will answer that it doesn't matter since the description is just find a Ted's around Albany NY. How lucky are we to live where the Ted's Fish Fry locations are?
Harbor House Fish Fry 1742 Route 9, Clifton Park
Off-Shore Pier Fish Market & Restaurant 637 Third Avenue Extension, Rensselaer
FISH AND CHIPS (not fish fry)
Yanni's Too
20 Marina Drive, Coeymans
It is said that location, location, location is the key to a good business. Yanni's Too has that but throw in excellent fish as well. Trust our readers on this pick, for sure, and enjoy the scenery, too.
The Olde English Pub & Pantry 683 Broadway, Quackenbush Square, Albany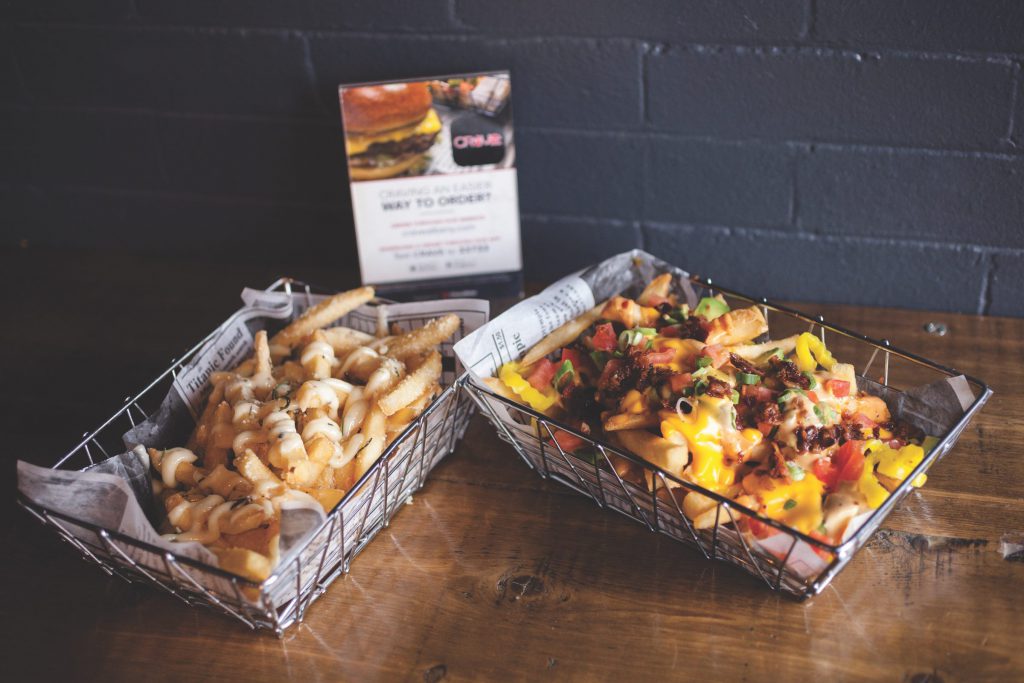 FRENCH FRIES 
Crave 217 Western Avenue, Albany
This is not just a vote for great French fries, but a vote for gourmet comfort food in general. The French fries are awesome, for sure, but the concept behind Crave is awesome, too. Bravo, chef!
Crossroads Brewing Co. 21 Second Street, Athens 201 Water Street, Catskill
Garden Bistro 24 1207 Troy-Schenectady Road, Latham 5 Vista Blvd, Slingerlands
FRIED CHICKEN 
Hattie's Restaurant 45 Phila Street, Saratoga Springs
Iconic and amazing for sure. A meal at Hattie's can leave your lips smacking and tummy full. I have never left Hattie's without planning my return and our readers feel the same way. Pick up their cookbook as it is great but, honestly, leave the fried chicken to them and save the book for their other fabulous recipes.
Chicken Joe's 486 Yates Street, Albany 506 Campbell Avenue, Troy
Bees Knees Cafe at Heather Ridge Farm 989 Broome Center Road, Preston Hollow
HAPPY HOUR
Wheatfields 440 Broadway, Saratoga Springs 54 Crossing Boulevard Clifton Park
The food at Wheatfields is always amazing but their happy hour is as good as it gets to our Capital Region Living readers. A quick stop on your way home from work or a meet-up with friends makes Wheatfields the place to go for wonderful happy hour prices.
The Standard Crossgates Mall, Albany
Corcoran's Towpath Tavern 31 Saratoga Avenue, Waterford
HOMEMADE PASTA 
Cornells in Little Italy 39 North Jay Street, Schenectady
House-made cavatelli at Cornells is sublime. Everything at Cornells is excellent and beautifully served but the cavatelli they make and serve is just heaven on a plate.
DeFazio's Pizzeria 266 Fourth Street, Troy
Ferrari's Ristorante 1254 Congress Street, Schenectady
HOT DOG
Gus's Hot Dogs 212 25th Street, Watervliet
Order your little hotdog gems and walk away with a plateful. We wonder if you can make it home or even to one of their picnic tables without gobbling. Sad but true! They are little bites of hotdog heaven with little devils inside to tempt you.
Famous Lunch 111 Congress Street, Troy
Mike's Hot Dogs 1135 Erie Boulevard, Schenectady
ICE CREAM STAND
The Snowman 531 Fifth Avenue, Troy
A perennial winner over the years and we have written many paragraphs about their wins. We are delighted to say the Snowman is also national award winning. How wonderful that everyone acknowledges how good The Snowman is. How could you not?
Kurver Kreme 1349 Central Avenue, Albany
Moxie's Ice Cream 1344 Spring Avenue, Wynantskill
KID-FRIENDLY DINING 
Jumpin' Jack's Drive-In 5 Schonowee Avenue, Scotia
Summer isn't summer without bringing the family to Jumpin' Jack's. Kid-friendly, for sure, but the food is fast and great, too. So much fun to sit and enjoy your family picnic without cooking it and the kids can run and have fun at the same time! Just tell them they need to eat everything before their Jumpin' Jack's ice cream.
Kay's Pizza 10 Walsh Lane, Averill Park
Ted's Fish Fry Multiple locations
LATE-NIGHT DINING 
Latham '76 Diner 722 New Loudon Road, Latham
If you went to high school in the Capital Region and you went to proms or on late dates, you finished your evening at the '76 Diner. When the desire for late-night eating hits, for whatever reason, you need to set your GPS for the' 76 Diner in Latham.
The Ruck 102 Third Street, Troy
Bob's Diner 929 19th Street, Watervliet
LOBSTER MAC & CHEESE 
Century House 997 New Loudon Road, Latham
tied with
CH Evans Brewing Company at Albany Pump Station 19 Quackenbush Square, Albany
When the Century House adds something to the menu, you better believe it will be wonderful. Done with the same care as all the other entrees, this lobster mac & cheese has to be tried and tried and tried. A favorite on the Albany Pump menu for good reason. This is perfect lobster mac & cheese and your life may be complete after eating it. So very good but like all lobster mac & cheese, it is not a diet food but that's OK. Save your calories and eat every morsel.
Yanni's Too 20 Marina Drive, Coeymans
Tipsy Moose Tap & Tavern 185 Old Loudon Road, Latham
LUNCH SPOT
Garden Bistro 24 1207 Troy-Schenectady Road, Latham 5 Vista Boulevard, Slingerlands
The Garden Bistro is excellent for lunch and dinner but you cannot beat their prices and selection for the lunch crowd. Our readers believe that to indulge on a nice lunch out and not be sitting at your desk deserves the best food or shall I say "Bestie."
Lakeside Farms 336 Schauber Road, Ballston Lake
Bountiful Bread 1475 Western Avenue, Stuyvesant Plaza, Albany
MAC & CHEESE
Tipsy Moose Tap & Tavern 185 Old Loudon Road, Latham
Come early and wait a bit as the Tipsy Moose is always crowded and for good reason. The mac & cheese is served in a skillet of shear bliss. So good, it's dangerous!
Crossroads Brewing Company 21 Second Street, Athens 201 Water Street, Catskill
tied with
Druthers Brewing Company 381 Broadway, Saratoga Springs 1053 Broadway, Albany
The Mill on Round Lake 2121 Route 9, Round Lake
MARGARITA 
Ama Cocina 4 Sheridan Avenue, Albany
It does not have to be Cinco de Mayo to enjoy a few of these wonderful margaritas. Every day is Cinco de Mayo when you have one. Whether the house margarita, coco-ginger, green tea or green apple margarita, you simply cannot go wrong.
Mexican Connection 41 Nelson Avenue, Saratoga Springs
El Loco 465 Madison Avenue, Albany
MARTINI 
The Standard Crossgates Mall, Albany
You have sit at the bar or a table at The Standard and sip one of the many martinis. The ambiance simply mandates it! Expertly made, and beautifully served. Slip back to the sixties and know what cool is.
9 Maple Avenue 9 Maple Avenue, Saratoga Springs
Barnsider Restaurant 480 Sand Creek Road, Albany
MEATBALLS 
Canali's Restaurant 126 Mariaville Road, Schenectady
This family restaurant is amazing for many things but their meatballs are worth a trip from anywhere. I don't care that you may think you make the best meatballs, you have to try these. I am not sure which member of the team makes them but they should be made a culinary saint.
Cornells in Little Italy 39 North Jay Street, Schenectady
D'Raymonds Restaurant 269 Osborne Road, Loudonville
MUFFINS 
Lindsey's Country Store 1537 Route 9, Clifton Park
Our readers have sent them as gift baskets, eaten in their cars, brought them home for the family and cannot get enough of them. Many varieties but all excellent.
Bella Napoli Italian American Bakery & Cafe 672 New Loudon Road, Latham 721 River Street, Troy
OMELETS
Duncan's Dairy Bar 890 Hoosick Road, Troy
tied with
Latham '76 Diner 722 New Loudon Road, Latham
Duncan's is the place to be in the little town of Brunswick (the rest of Troy sneaks in, too). Everything is homemade while you sit and watch the action. Generations have flocked to Duncan's and many just to get the big, fat juicy omelets! A new category for us this year. Our readers believe these wonderful large omelets served by the 76' Diner rule. I could eat their omelets day or night as they are filling and wonderful.
The Ugly Rooster Cafe 312 North 3rd Avenue, Mechanicville
Peaches Café 1475 Western Avenue Stuyvesant Plaza
OUTDOOR DINING 
Philly Bar & Lounge 622 Watervliet Shaker Road, Latham
tied with
The Waters Edge Lighthouse 2 Freemans Bridge Road, Glenville
The "all new" Philly Bar & Lounge has unique dining with light choices as well as full meals. Our readers certainly acknowledge and applaud their wonderful changes. Good food, fun patio for warm weather and entertainment! The river views are amazing while you are eating or just sitting and waiting for your table with a cocktail in hand. One of the nicest river views in our Capital Region awaits your dining experience. No wonder Waters Edge Lighthouse is often a winner in this category!
Jumpin' Jack's Drive-In 5 Schonowee Avenue, Scotia
Lanie's Café 471 Albany-Shaker Road, Loudonville
Pasta Sauce
Testo's 853 Fourth Avenue, North Troy 767 Pawling Avenue, Troy
With two locations now in Troy, the restaurant and the new take-out on Pawling Avenue in the Albia section, their marvelous sauce is more available than ever. Whether buying a jar to make your homemade food fabulous or getting Testo's homemade wonder with the sauce already on, you can't go wrong.
Canali's Restaurant 126 Mariaville Road, Schenectady
tied with
Cornells in Little Italy 39 North Jay Street, Schenectady
Scotti's Restaurant & Pizzeria 1730 Union Street, Schenectady
PIZZA
Ferretti's Restaurant 262 Ushers Road, Clifton Park
tied with
Kay's Pizza 10 Walsh Lane, Averill Park
For many years, Ferretti's has been a finalist in our annual "Bestie" readers' poll and this year they cracked that top spot. A dead heat between Kay's and Ferretti's. Congrats to some pretty awesome folks! Another annual faithful readers' choice winner which is astounding because Kay's is a seasonal operation open from April to October. Kay's is 60 years old this year. What a legacy!
Caputo's Pizzeria 3039 Route 50, Saratoga Springs 1675 Route 9, Clifton Park
Scotti's Restaurant & Pizzeria 1730 Union Street, Schenectady
PUB
The Parting Glass Pub 40-42 Lake Avenue Saratoga Springs
The oldest continuously run pub/restaurant in Saratoga Springs. It has also been one of the area's best places to let your hair down with some Irish music and brew.
The Towne Tavern 2850 State Route 43, Averill Park
Ravenswood Pub and Restaurant 1021 Route 146, Clifton Park
RIBS
Otis & Oliver's 30 Mill Road, Latham
The BBQ rocks at Otis & Oliver's and has since they opened their doors. They are located at Mill Road Golf Course, which is so convenient for enjoying our readers' choice ribs. One of their most requested entrees and our "Bestie" is their Danish baby back ribs which are dry rubbed and slow cooked for SIX hours and then brushed with their signature apple-infused BBQ sauce.
American Glory BBQ 342 Warren Street, Hudson 6033 Main Street, Tannersville
tied with
Warehouse Grill & BBQ 219 Wolf Road, Albany
The Towne Tavern 2850 NY 43, Averill Park
ROMANTIC DINING  
Lake Ridge Restaurant 35 Burlington Avenue, Round Lake
tied with
15 Church 15 Church Street Saratoga Springs
Eating dinner at the two "Bestie" winners offers truly awesome choices in the Romantic category.  First, Lake Ridge with its classic setting that just screams relax and enjoy your "significant other."  The food is always amazing from appetizers to desserts. And 15 Church. Precise in all that they do. The atmosphere is creative and fresh and the food gourmet and then some.
Wishing Well 745 Saratoga Road, Wilton
Café Capriccio 49 Grand Street, Albany
SANDWICH/SUB 
Andy's Italian Food & Deli 256 Delaware Avenue, Albany
It is…Good things come in small packages, for sure. Walk in and enjoy the old world air that screams little town in Italy. A must stop if you have missed this Capital Region gem.
Gershon's Deli & Caterers 1600 Union Street, Schenectady
Pellegrino Importing Multiple locations
SALAD
Bountiful Bread 1475 Western Avenue, Stuyvesant Plaza, Albany
tied with
Scallions 44 Lake Avenue, Saratoga Springs
When writing these snippets about our "Bestie" winners, I try not to interject my choices but, between us, Bountiful Bread is a great place for fresh and wonderful salads. A cup of coffee, a slice of their bread and one of their salads—heaven is singing! Scallions has been an epicurean target for years. Lunch offers unique homemade soups, paninis, many vegetarian items, sandwich and salad combinations, but our readers singled out their salads! Fresh and creative and they really deserve this "Bestie."
Illium Café 9 Broadway, Troy
Garden Bistro 24 1207 Troy-Schenectady Rd, Latham 5 Vista Boulevard, Slingerlands
SLIDERS
Jack's Drive In 24 Main Avenue, Wynantskill
A rite of summer. Order your sliders and fries. Pick your picnic table, breathe in the onions floating on the warm air and, for those of us who have been going to Jack's for years, a small carton of chocolate milk completes the experience.
Slidin' Dirty 9 1st Street, Troy 512 State Street, Schenectady
Jumpin' Jack's Drive-In 5 Schonowee Avenue, Scotia
SOUP
The Century House 997 New Loudon Road, Latham
Lobster Bisque, chowder, or any other soup of the day is a meal in itself at The Century House. The Century House does so much so well and we are thrilled that their soup is recognized this year.
Bountiful Bread 1475 Western Avenue, Stuyvesant Plaza, Albany
Restaurant Navona 289 New Scotland Ave, Albany
SPORTS BAR 
Recovery Sports Grill Multiple locations
Wide screens everywhere the eyes can see; cold beer and teams we either cheer or jeer. The Recovery Rooms have all of that and then some.
Four Seasons Taproom & Grill 4 Middle Mannix Road, Rensselaer
Rusty Nail 1781 Route 9, Clifton Park
SUSHI
Sake Japanese Steakhouse 611 Troy-Schenectady Road, Latham
Wonderfully prepared sushi is a marvel and sitting at the sushi bar at Sake illustrates the art. The sushi is out of this world and so creative. Eating their sushi is easy; choosing which one to eat is hard.
Jade Bistro 120 Mohawk Avenue, Scotia
Koto Japanese Restaurant 260 Wolf Road, Latham
TAKEOUT 
Canali's Restaurant 126 Mariaville Road, Schenectady
Often, home is where you want to relax, unwind and eat. Taking food out at Canali's is the answer to making that all happen. Let's be honest: We cannot make this food better at home!
Scotti's Restaurant & Pizzeria 1730 Union Street, Schenectady
tied with
Testo's 853 Fourth Avenue, North Troy 769 Pawling Avenue, Troy
Scubber's 186 Wolf Road, Albany
TAPAS/SMALL PLATE
Plates Bocca Bistro 384 Broadway, Saratoga Springs
The atmosphere is great at Bocca Bistro, whether eating and people watching in the summer or just enjoying the food in the winter months. Choosing imaginative and inspired small plates to share is the way to eat!
Thirsty Owl 184 S. Broadway, Saratoga Springs
Peck's Arcade 217 Broadway, Troy
WAIT STAFF 
15 Church
15 Church Street Saratoga Springs
Paul, Susan and team have it all going on at 15 Church. Many members of the team have been together for many years and it shows. Excellence is shared and the patrons reap the benefits.
Cornells in Little Italy 39 North Jay Street, Schenectady
Barnsider Restaurant 480 Sand Creek Road, Albany
WINE LIST
Twisted Vine & Tap 384 Kenwood Avenue, Delmar
Twisted Vine Wine & Tap is a wine and craft beer establishment that serves delicious and unique shared plates and appetizers, small plates and desserts, but our readers honor their wines this year. Outstanding achievement in such qualified company.
Lucas Confectionery 12 Second Street, Troy
dp an American Brasserie 25 Chapel Street, Albany
WINE/WINERY
Hudson Chatham Winery 1900 Route 66, Ghent
The lovely drive to the Hudson Chatham Winery can only be topped by the wine. Taste, enjoy a glass or two and bring some home, for sure. We appreciate that Hudson Chatham is here in the Capital Region and love what you produce.
Adirondack Winery 285 Canada Street, Lake George
Brookview Station Winery 1297 Brookview Station Road, Castleton
NEW RESTAURANT IN PAST 12 MONTHS
Tara Kitchen (Troy) 172 River Street, Troy
Tara Kitchen in Troy is new this year but we have been enchanted with Tara's food for several years in Schenectady. The same wonderful food and a downtown Troy location—perfect!
The Cuckoo's Nest 234 Western Avenue, Albany
Kismet Mediterranean Grill 1116 Madison Avenue, Albany
---
RESTAURANT BY CUISINE
AMERICAN
Barnsider Restaurant 480 Sand Creek Road, Albany
I feel that I can't say much more about the Barnsider. They are so good on so many levels and their prices are so good for their product. It is a top restaurant in our Capital Region for very good reasons. Bravo for consistently Barnsider.
The Century House 997 New Loudon Road, Latham
tied with
Rare 611 Union Street, Schenectady
New World Bistro Bar 300 Delaware Avenue, Albany
CAJUN
The Mouzon House 1 York Street, Saratoga Springs
Outstanding achievement and consistency again for Mouzon House. If you have not been there, you need to get there. They are an annual winner voted by our readers and their food is nothing short of inspired.
Nanola 2639 Route 9, Malta
CARIBBEAN
Dutch Pot 270 State Street, Empire State Plaza, Albany
If you love Caribbean food, you have to love Dutch Pot. Awesome jerk chicken is always available and so much more that is worth the trip.
Roy's Caribbean Restaurant 769 State Street, Schenectady
Hot Spot Jamaican American Cuisine 228 Washington Avenue, Albany
CHINESE
Gold Coin 1360 New Scotland Road, Slingerlands
The Gold Coin is setting a standard locally for excellent Chinese food. As the years go by, the food just seems to get better and better. Way to go Gold Coin. You are appreciated by our readers.
Jade Bistro 120 Mohawk Avenue, Scotia
tied with
Plum Blossom 685 Hoosick Road, Troy
Ala Shanghai 468 Troy Schenectady Road, Latham
FRENCH
Chez Nous 707 Union Street, Schenectady
A winner in our "Bestie" readers' poll since they opened their doors. French food extraordinarily prepared outside of France is such a treat. Well done again to our friends at Chez Nous. You are setting a high standard in our culinary world.
Provence 1475 Western Avenue, Stuyvesant Plaza, Albany
Rive Gauche Bistro 7 Second Street, Athens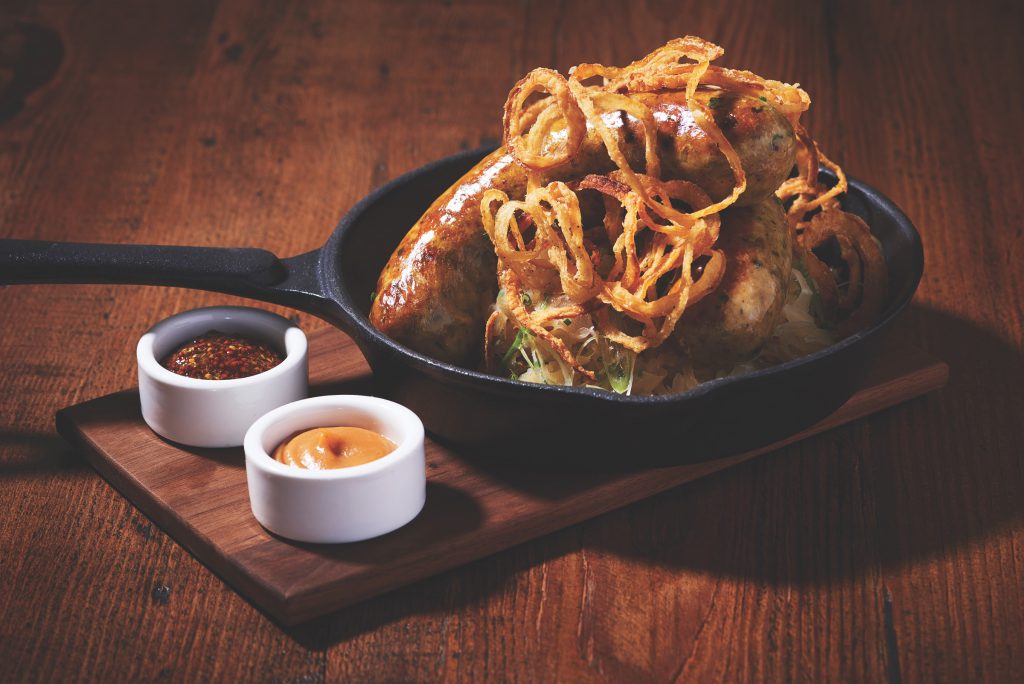 GERMAN
The Flammerie 7 Hudson Street, Kinderhook
The inspirations for their food are rooted in German, French and Alpine culinary traditions. Our readers voted en masse for their German food. Never forgetting that they are located and draw local deliciousness from our Hudson Valley, their menu reflects that, too. Their Biergarten is closed until spring so let's hope by the time this May issue is out that spring in finally here!
Wolff's Biergarten Multiple locations
Bavarian Manor 866 Mountain Avenue, Purling
GREEK
Athos 1814 Western Avenue, Albany
How do we love thee? Let me count the ways. Many times, each year in our "Betsie" readers' poll. Congrats Athos team once again for excellence in Greek cuisine.
Grecian Gardens 1612 Route 9, Clifton Park
The Greek House 27 3rd Street, Troy
INDIAN 
Karavalli 9 Johnson Road, Latham
Indian food has to be prepared well to be authentic. The spices, the cooking methods are unique and the results at Karavalli are to "die for." Great to "live for."
Curry Leaf 1 Central Avenue, Albany
Taj Mahal 142 Clinton Street, Albany
ITALIAN 
D'Raymonds Restaurant 269 Osborne Road, Loudonville
When our family (and probably yours) comes home to our Capital Region, we have to go to D'Raymonds. Sometimes, we barely get out of Albany Airport before hitting D'Raymonds. These long-distance folks can go far and wide but never get what we have here—the excellence of D'Raymonds.
Cornells in Little Italy 39 North Jay Street, Schenectady
Caffé Italia 662 Central Avenue, Albany
JAPANESE
Koto Japanese Restaurant 260 Wolf Road, Latham
tied with
Sake Japanese Steakhouse 611 Troy Schenectady Road Latham
Centrally located on Wolf Road and so well run! Koto serves wonderful sushi and everything Japanese to their guests in a fun and comfortable setting. Bravo Koto after many years of winning our "Bestie." Japanese food has been plentiful here in the Capital Region for quite a few years now. Sake does it all well from sushi to hibachi and everything in between.
Tomo Asian Bistro 1365 New Scotland Road, Slingerlands
Unagi Sushi 118 4th Street, Troy
LEBANESE
Beirut Restaurant 184 River Street, Troy
Beirut is one of those little culinary gems that once you try, you will never forget it. The family who owns and serves this magical Lebanese food is as wonderful as the food served. Truly a gem!
Mamoun's Restaurant 206 Washington Avenue, Albany
The Phoenicians 71 Fuller Road, Colonie
MEDITERRANEAN 
Athos 1814 Western Avenue, Albany
Well, I have to admit something as I am writing about Athos. Like the readers of Capital Region Living Magazine, I love the food at Athos. If you have lived under a culinary rock, climb out and head over to Guilderland because good Greek food is hard to find and they have the treasure map!
Tara Kitchen 431 Liberty Street, Schenectady 172 River Street Troy
Restaurant Navona 289 New Scotland Avenue, Albany
MEXICAN
El Mariachi 289 Hamilton Street, Albany 271 Lark Street, Albany
There really isn't much else we can say about El Marichi after many, many years of winning the Mexican food category. The food is so delicious and the atmosphere is perfect. We recommend you start with their house Sangria and brace for a wonderful experience.
Casa Real 1400 Altamont Avenue, Schenectady 3770 Carman Road, Schenectady
El Loco 465 Madison Avenue, Albany
POLISH
Muza 1300 Fifteenth Street, Troy
Muza is a "must do" if you love good Polish food. Made to order, served and cooked by the family who opened the doors in Troy some time ago. You will go home full and you will go home knowing what our voters know—it is awesome.
SEAFOOD 
Yanni's Too 20 Marina Drive, Coeymans
This is a first time win in the overall seafood category for Yannis Too. Wonderful seafood and well worth the drive to Coeymans from anywhere in the Capital Region. Trust me—start with the calamari; then dive into everything else and, of course, pardon the pun.
Reel Seafood Co. 195 Wolf Road, Albany
Red's Seafood 12005 Route 9W, West Coxsackie
SPANISH
Barcelona 1192 Western Avenue, Albany
Barcelona knows no bounds when it comes to fantastic Spanish food. Created with care and cooked with expertise. It is an Albany gem.
Carmen's Cafe 198 First Street, Troy
Mr. Pio Pio 160 Quail Street, Albany
STEAKHOUSE 
677 Prime 677 Broadway, Albany
Our readers dare you to enjoy a steak of your choice at 677 Prime and wash it down with a fabulous glass of wine from their selection and not LOVE it. When you go you must not be on a diet because you will want an appetizer and dessert, too!
Barnsider Restaurant 480 Sand Creek Road, Albany
Clark's Steakhouse 120 Broad Street, Schuylerville
THAI
Sri Siam Thai Restaurant 44 Sherwood Avenue, Rensselaer 728 New Loudon Road, Latham
Over the past several years, Sri Siam has been a true treasure in the Capital Region. Their Thai food amazes all who try it. From the traditional Thai to some creatively inspired dishes, Sri Siam is again our "Bestie."
Celadon Thai Restaurant 461 Troy-Schenectady Road, Latham
Sweet Basil 370 Delaware Avenue, Albany
VEGETARIAN
Berben & Wolff's 227 Lark Street, Albany
The vegan menu at Berben & Wolff's is so innovative. I am not a vegetarian or a vegan but our readers who are find their food as delicious as it is creative. To be a great cook is one thing but to create great food without the ingredients that most use is really quite wonderful and a gift to all who follow that way of eating.
New World Bistro Bar 300 Delaware Avenue, Albany
Antipasto's Bistro & Wine Bar 1026 Route 146, Clifton Park
VIETNAMESE
Van's Vietnamese Restaurant 307 Central Avenue, Albany
Van's is the place many Albanians think of when thinking of Vietnamese food. Our readers over many years have considered them "the best."
Pho Yum Multiple locations
Saigon Spring 1683 Route 9, Clifton Park
---
RESTAURANT BY COUNTY
Albany County
New World Bistro Bar 300 Delaware Avenue, Albany
Not only is New World our readers' choice for bistros but it has again captured the "Bestie" for Albany County. The innovative menu with something for everyone has consistently drawn accolades.
677 Prime 677 Broadway, Albany
D'Raymonds Restaurant 269 Osborne Road, Loudonville
Berkshire County
Salmon Run Fish House 78 Main Street, Lee MA
Fresh seafood is the specialty but this family-owned and family-style restaurant offers many other options and this combo pleases our readers who say "Berkshire County 'Bestie.'" And leave room for the homemade bread pudding.
The Red Lion Inn 30 Main Street, Stockbridge MA
Old Forge Restaurant 125 North Main Street, Lanesborough, MA
Columbia County
Ca'Mea Restaurant 333 Warren Street, Hudson
Creative menu, including fresh homemade pasta, food prepared to perfection, and attentive service are among the great comments for this fine dining Italian restaurant named "Bestie" for Columbia County.
Jackson's Old Chatham House 646 Albany Turnpike, Old Chatham
Dyad Wine Bar 16 Hudson Street, Kinderhook
Fulton/ Montgomery County
Bosco's Family Restaurant 165 Division Street, Amsterdam
Calzones, pizza, tri-pasta, and eggplant parm are just a few examples of what visitors say are awesome at this long-time family restaurant, which also earns applause for its friendly atmosphere and staff.
Raindancer Restaurant 4582 State Highway 30, Amsterdam
Sam's Seafood Steakhouse 281 North Comrie Avenue, Johnstown
Greene County
Crossroads Brewing Company 21 Second Street, Athens 201 Water Street, Catskill
Craft brews plus inventive pub fare, with locally sourced meats, produce and cheeses. That tastes great to our readers who describe yummy and creative menu offerings, super brews and friendly service. That's why it's the Greene County "Bestie."
Mountain View Brasserie 10697 State Route 32, Greenville
Rive Gauche 7 Second Street, Athens
Otsego County
Brooks' House of BBQ 5560 State Highway 7, Oneonta
Our readers proclaim that this is the go-to place for mouth-watering sweet and tangy chicken hand-basted on what Brooks' notes is the largest indoor charcoal barbeque pit in the East. Visitors love the flavorsome tender, slide-off-the-bone meat.
Rensselaer County
Chez Mike 596 Columbia Turnpike East Greenbush
Chez Mike says that "our goal is to provide a superior dining experience through exceptional service and fresh, from-scratch food, in a relaxed neighborhood atmosphere." Add to that excellent service and great food. This eclectic American cuisine restaurant has exceeded that goal, say our readers who have once again given Chez Mike the "Bestie" in Rensselaer County.
Peck's Arcade 217 Broadway, Troy
Verdile's Restaurant 572 Second Avenue, Troy
Saratoga County
15 Church 15 Church Street Saratoga Springs
An innovative menu with fresh seafood, aged beef and more fantastic food in an elegant stylish setting, with a top-notch staff. That makes your dining experience special. Our readers appreciate these elements in naming 15 Church as the Saratoga County "Bestie."
Lake Ridge Restaurant 35 Burlington Avenue, Round Lake
Longfellows Hotel Restaurant & Conference Center 500 Union Avenue, Saratoga Springs
Schenectady County
Canali's Restaurant 126 Mariaville Road, Schenectady
Homemade meatballs, fresh ricotta, super sauces and much more. Customers appreciate the delicious food and plentiful portions that enable them to recall the lovely experience. Those are just some of the reasons why our readers tapped Canali's in multiple categories.
Cornells in Little Italy 39 North Jay Street, Schenectady
Tara Kitchen 431 Liberty Street, Schenectady
Schoharie County
Bull's Head Inn 105 Park Place, Cobleskill
Bull's Head Inn has been welcoming guests since 1802 as a traditional American restaurant and comfortable and friendly gathering place to the kudos of our readers who have bestowed the "Bestie" in Schoharie County. Visitors enjoy the choice of pub fare downstairs or traditional dining above. The French onion soup is often cited as divine.
Apple Barrel 115 State Route 30A, Schoharie
Hubie's 325 Main Street, Middleburgh
Warren County
Log Jam Restaurant 1484 State Route 9, Lake George
Our readers again name the Log Jam as the "Bestie" in Warren County. Diners tell us to head for an impressive salad bar, don't forget the delicious bread, and enjoy your selection from the large menu. They appreciate the ambiance and friendly staff, too.
Adirondack Brewery 33 Canada Street, Lake George
Bennington, VT County
Madison Brewing Company Pub and Restaurant 428 Main Street, Bennington, VT
Once again, Madison Brewing Company is our readers' choice for the Bennington County "Bestie." New customers cite the brewpub as a magnificent find. They and repeat visitors enjoy the beautiful craft beer and fantastic food served in a comfortable atmosphere.
The Publyk House 782 Harwood Hill, Bennington, VT
---
RESTAURANT BY CITY / TOWN / VILLAGE
Albany
New World Bistro Bar 300 Delaware Avenue, Albany
New World Bistro frequently comes to mind with a mmmm-good. So there's no surprise that New World is a multiple "Bestie" winner this year – for Albany, as well as Albany County and bistro.
677 Prime 677 Broadway, Albany
Café Capriccio 49 Grand Street, Albany
Ballston Spa
Augie's Italian Restaurant 17 Low Street, Ballston Spa
A warm and welcoming atmosphere with a hometown feel. Fresh scrumptious food. Family-style quantities. That's a winning combination making Augie's once again the Ballston Spa "Bestie."
Iron Roost 36 Front Street, Ballston Spa
The Factory Eatery & Spirits 20 Prospect Street, Ballston Spa
Clifton Park
Ferretti's Restaurant 262 Ushers Road, Clifton Park
Our readers rave over the great food, especially the super pizza, at Ferretti's. They appreciate being treated like family in this family-owned popular restaurant.
Wheatfields 54 Crossing Boulevard, Clifton Park
Pasta Pane 18 Park Avenue, Clifton Park
Colonie
Barnsider Restaurant 480 Sand Creek Boulevard Albany
Barnsider is a repeat "Bestie." The restaurant is the repeat go-to place for Capital Region residents who tell us about their countless visits and often have favorites on the menu. They especially enjoy the salad bar and steaks. D'Raymonds Restaurant 269 Osborne Road, Loudonville
DeMarco's Restaurant 1965 Central Avenue, Colonie
Delmar/ Slingerlands
Bellini's 365 New Scotland Road Slingerlands
Bellini's shares its passions for southern Italian cuisine and gluten-free selections and our readers are delighted with delicious food, great wine selection and ambiance.
Garden Bistro 24 5 Vista Boulevard, Slingerlands
Swifty's Restaurant & Pub 367 Delaware Avenue, Delmar
East/North Greenbush
Chez Mike 596 Columbia Turnpike East Greenbush
Congratulations Chez Mike. Not only are you a repeat "Bestie" in this category, you garnered the "Bestie" for the county, too.
Paolo Lombardi 104 West Sand Lake Road, Wynantskill
Alexis Diner 294 North Greenbush Road, Troy
Guilderland
Sage Bistro 2050 Western Avenue Guilderland
Excellent food (don't forget the pita bread and hummus), cozy booths plus tables, welcoming and attentive staff are some of the ingredients making Sage Bistro the "Bestie" in Guilderland. The one regret from diners is not discovering Sage Bistro sooner.
The Standard Crossgates Mall, Albany
Athos 1814 Western Avenue, Albany
Latham
The Century House 997 New Loudon Road, Latham
tied with
Milano 594 New Loudon Road, Latham
At the ever-popular Century House readers enjoy tasty well prepared meals and friendly service. The repeat "Bestie" Milano, applauded for its delicious food, including homemade pasta, in a relaxed atmosphere, great for meeting friends or special occasion.
Innovo Kitchen 1214 Troy Schenectady Road, Latham
Sake 611 Troy Schenectady Road, Latham
Rotterdam
Canali's Restaurant 126 Mariaville Road, Schenectady
Canali's repeats here and is "Bestie" in multiple other categories. It's known for its lip-smacking Italian food and especially the homemade meatballs.
Casa Real 1400 Altamont Avenue, Schenectady 3770 Carman Road, Schenectady
Tops American Grill 351 Duanesburg Road, Schenectady
Saratoga Springs
15 Church 15 Church Street Saratoga Springs
With the wonderful choices of restaurants in the Saratoga area, it's not easy to earn the "Bestie." The Saratoga Springs and Saratoga County categories go to 15 Church this year, a restaurant that continues to garner rave reviews.
Longfellows Hotel Restaurant & Conference Center 500 Union Avenue, Saratoga Springs
Hattie's Restaurant 45 Phila Street, Saratoga Springs
Schenectady
Cornells in Little Italy 39 North Jay Street, Schenectady
Cornells is dedicated to continuing a tradition of warm hospitality, great service and classic Italian cuisine of time-tested dishes with modern twists. With this repeat "Bestie," our readers say Cornells has certainly done so.
Johnny's 433 State Street, Schenectady
Ferrari's Ristorante 1254 Congress Street, Schenectady
tied with
Tara Kitchen 431 Liberty Street, Schenectady
Scotia/Glenville
Jade Bistro 120 Mohawk Avenue, Scotia
Readers enjoy the variety of menu selections from regions of China, Japan and Thailand, fresh food, lovely presentation and accommodating staff for this Asian fusion restaurant.
Mohawk Tap Room 153 Mohawk Avenue, Scotia
The Glass Tavern 115 Saratoga Road, Glenville
Troy/Rensselaer
Illium Café 9 Broadway, Troy tied with Peck's Arcade 217 Broadway, Troy
Illium Café gets applause for its stylish setting and its scrumptious food, wonderful flavors, whether at breakfast, lunch or dinner. Peck's Arcade, a repeat winner, with cheers for delectable drinks, delicious small plates (great opportunity to share with your dining companions), hip atrmosphere and great service.
Lo Porto Ristorante Caffe 85 Fourth Street, Troy
Casey's Restaurant 77-79 Washington Avenue, Rensselaer
West Sand Lake/ Averill Park
Lakeview on Crystal Lake 4 Old Route 66 (Route 43) Averill Park
Lakeview is appreciated for its casual family dining, from lunch to dinner, and extensive selections, including tasty pizza, homemade soups and sandwiches.
Towne Tavern 2850 NY 43, Averill Park
Kay's Pizza 10 Walsh Lane, Averill Park