Proctors' Gamble
This August 12-14, Proctors will debut a brand new event: Fandom Fest, which celebrates fan culture of all sorts. In addition to an e-sports tournament, arcade, cosplay contest and board games, the weekend will feature celebrities including Amber Benson (who plays Tara Maclay in Buffy the Vampire Slayer), Keith David (The Thing, Armageddon, The Chronicles of Riddick), and Rodger Bumpass (who portrays Squidward Tentacles in SpongeBob SquarePants). And, oh yeah—Proctors also announced the shows in its 2022-23 season. Coming soon to Schenectady: Hairspray, Tootsie, Jagged Little Pill, and yes, Hamilton.
A WHOLE BARRELL OF FAMILY FUN
What could be better than blueberry beer and Bang Bang Shrimp? All of that plus a giant pretzel, of course! Check out the new Northern Barrell Brewing in Voorhesville for brunch, a date night or a family dinner. The family-run operation is getting rave reviews from locals who love the friendly, clean atmosphere and amazing food. (We'll take a Grown-up Grilled Cheese with its spicy guacamole, bacon and crunchy tortilla chips, please.) They're even entering the "mug club" game, so order up.
SUMMER: THE SEQUEL
Seeing a movie on a big screen when you're a kid is the best, and seeing it on the big screen for free is even better. Once again the Palace Theatre in Albany is running its Summer in the City movie series, with eight free, family-friendly movies for children and families from neighborhoods around downtown. Disney's Raya kicked things off, but keep an eye out for other kid flicks such as Sing 2 July 19, Space Jam August 16, and Encanto August 30. Doors open at noon; go to the box office or palacealbany.org for tickets. There's even free popcorn for kids 12 and under!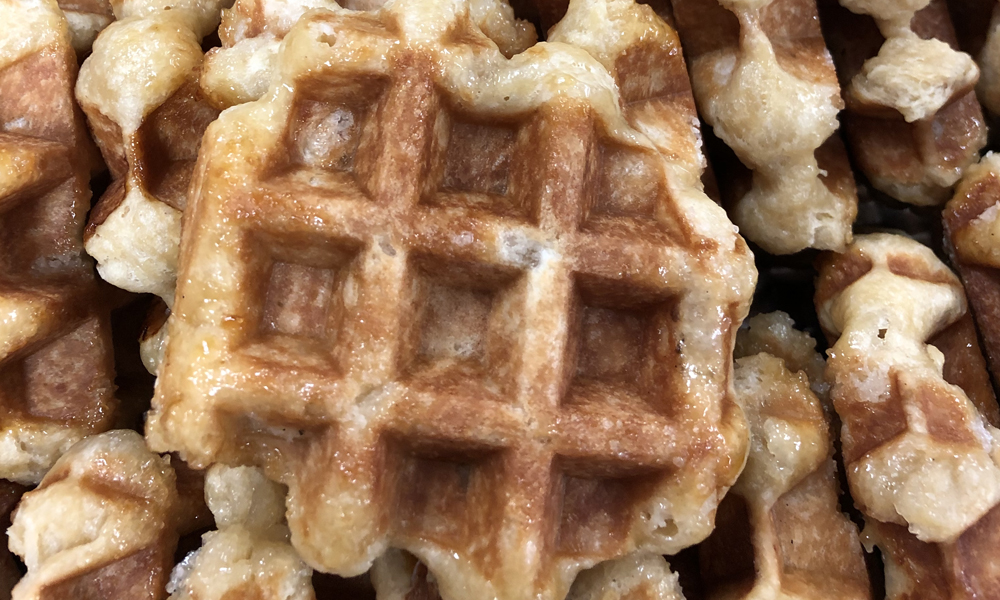 BATTER UP!
Clifton Park's Send Me Waffles, which, yes, ships waffles all over the country, already knows that the way to our hearts is via one of its Belgian Liege waffles with all its pearl sugar yumminess—but the new Send Me Beer Grain waffles have elevated the treat to an art form. Send Me Waffles takes the grain used to make beer and then turns it into flour to make cake-like treats. Barley, wheat and rye ingredients pack some health benefits, but who's paying attention when they taste this delicious? You can also feel good about eating them because the milk, honey, eggs and butter are all locally sourced here in the Capital Region.
CALL OF BEAUTY
Calling all glam squads—its time to invade the mall! Sephora, a name synonymous with beauty around the world, has teamed up with Kohl's and has recently added two hot new local locations— in Saratoga (79 Weibel Ave) and Clifton Park (54 Crossing Blvd). And as if that weren't good news enough for beauty junkies, Sephora at Kohl's is also adding Murad, Clarins, Jack Black, Living Proof, Versace and Voluspa to the already huge assortment of products. We're blushing just thinking about how good we're going to look. Blushing…get it?
ROCK ON, TROY!
Summer wouldn't be summer without the Capital Region's longest running outdoor concert series, and Rockin' On The River is back and better than ever with a new location at River Street Market in Downtown Troy. Local favorite Super 400 will kick things off July 20, and three more concerts have been announced for August 3, August 17 and August 31. Weather permitting, all shows run from 5:30-8:30pm. And did we mention they're free? There will be food and drink available, and other Troy vendors will be on hand for this family-friendly (but sorry, no pets) rocking series.
COLONIE CENTER GETS "RUFFED" UP
Speaking of pets, the Albany mall is going to the dogs, but in the best possible way. Your pooch no longer has to sit sadly by the door waiting for you to come back from Colonie Center, because now Fido can go re-tail shopping with you at ruff-ly 30 of its stores. Pawprint stickers are located on woof-friendly storefronts, including Nordstrom Rack and LL Bean, to let you know your four-legged friend—big or small—is welcome inside. 
GETTING UNDER OUR SKIN (IN A GOOD WAY)
One of the greatest ways to reveal glowing skin this summer is with a visit to Denise Dubois' Complexions Spa for Beauty and Wellness in Albany or Saratoga Springs. But now you can treat yourself at home, too, thanks to her natural skincare product line, Dubois Beauty. (The line of 13 products includes cleansing milk, antioxidant serum, buffing cream and restorative night cream, with five more products coming soon.) Holistic health coach Heather Thomson, whom fans will remember from her time on The Real Housewives of New York, is the new brand ambassador. "The nice thing about Dubois Beauty is I don't have to worry about my skincare," Thomson says. "The products really do what they say they're going to do."