Had you been an out-of-towner visiting Downtown Troy this past May or June, you would've been met with quite the visual conundrum. The asphalt roads that normally branch off from the city's triangular Monument Square were covered with a sizable layer of brownie-mix-colored dirt. The surrounding businesses—even vacant storefronts—looked odd as well, their façades featuring whimsically painted signage, their windows displaying sundries not normally sold there. Local jeweler Annick Designs, for instance, had been transformed into "Erlich," a "seedsman and florist"; and the empty space at 9 Broadway and 2nd Street, most recently the pandemic-shuttered Illium Cafe & Bistro, had become "Bloomingdale Brothers," a clothier for the Chester A. Arthur set. Horse-drawn buggies were parked hither and yon, and if you were there at the right time of day, you might've even caught a glimpse of a mustachioed man in a close-fitting suit or woman in a lavish dress, milling about, waiting for, oh, the century to turn.
For all intents and purposes, this past summer, Troy was New York City, circa 1882.
The Collar City's transformation was not the result of an RPI quantum physicist unsticking the space-time continuum. It happened because HBO location scouts had first cased the city that previous winter, then marched in several months later with an army of producers, directors, grips, set/costume designers and myriad others to begin filming portions of a new series called The Gilded Age, which was dreamed up by Downton Abbey creator Julian Fellowes. And his was not the only crew to descend upon the area in recent memory: The Capital Region enjoyed an impressive dose of A-list glam that nicely counter-balanced the dreariness of COVID's lockdown.
The required infrastructure was in place well before March 2020, however, with a solid financial framework that transcended quarantine-weary locals finding joy in sightings of actors Owen Wilson, Woody Harrelson or Justin Theroux (all three filmed in the area this year). But yes, COVID is the Dumbo-sized elephant in the room. While Wilson's indie movie Paint certainly didn't have the type of budget a blockbuster like Angelina Jolie's blockbuster Salt, which shot in Albany more than a decade ago, did, Saratoga offered something much more valuable to contemporary film crews: peace of mind during a pandemic. Since the state locked down last spring, some film crews have been choosing upstate locales because of their distance from COVID hotspots. "Six months after everything locked down, I was getting a lot more inquiries from scouts, because filming was a lot harder down near [New York City], and there were a lot more restrictions," says Annamaria Bellantoni, vice president of tourism at the Saratoga County Chamber of Commerce, who helped scouts identify filming locations for Paint. Like The Gilded Age in Troy, the presence of crews in Saratoga a handful of months prior meant a boon for local hospitality businesses and restaurants that had been struggling throughout COVID. For instance, 20-plus crew members stayed at the Pavilion Grand Hotel for an entire month, says Bellantoni, and producers even rented out the entire Olde Bryan Inn for a day.
This is no pop-up film location hotspot, however. While a few crews did come to the Capital Region because of issues getting into Canada during COVID or wanting to avoid NYC, the fact that we seem to be noticing film crews more than normal these days is mostly a sign of how little we had vying for our attention during the early days of the pandemic. The uptick in Hollywood attention goes back further than March 2020, and over time, infrastructure was created so that the Capital Region was ready and able to step up to the plate during COVID. In some ways, the area has been primed for more than a century: Our region is flush with well-preserved historic neighborhoods, mansions, buildings, parks and venues (like Saratoga Race Course), all attractive locations to capture a specific era or aura. Our cinematic cities, towns and villages are also small enough to accommodate a weeks- or months-long shoot without disrupting the local economy too severely. And the area's basically one big, year-round vacationland. Why wouldn't a big-time filmmaker want to hang out up here?
And hang out here they have.By no means is Fellowes the first creative mastermind to exploit Troy's late-19th-century aesthetic. Academy Award–winning director Martin Scorsese rolled in a battalion to film The Age of Innocence there in 1993, the city standing in for 1870s NYC. Nine years later, crews for a remake of The Time Machine also turned their clocks back in Troy. In fact, the Capital Region has played a starring role in a number of silver and small screen productions over the past century—but in the past decade or so, film crews have made a habit of returning as early and as often to the area as possible. Case in point: Besides the Gilded Age shoot this past late-spring, HBO crews have also been stationed in Downtown Albany since this past June, shooting the limited series The White House Plumbers, starring Hollywood heavyweights Harrelson and Theroux; and they've also been down in Hudson shooting Pretty Little Liars: Original Sin since August. Wilson's indie film Paint did a four-week run of shooting in Saratoga this past April, while another indie flick, Shoplifters of the World, spent time in Albany, Troy, Niskayuna and Colonie in 2018.
And the hits just keep on coming. In 2020, Amazon Studios' episodic series Modern Love filmed scenes for its second season in Troy, Albany and Schenectady; in 2019, HBO's Succession shot scenes in Albany and at Six Flags Great Escape in Queensbury; and in 2018, Netflix's The Punisher christened Albany part of the Marvel Cinematic Universe. Not to be outdone, The Place Beyond the Pines (2012), starring Eva Mendes, Bradley Cooper and Ryan Gosling, shot scenes in the summer of 2011 all over Schenectady, as well as in Niskayuna, Scotia, Latham and Albany; and that Jolie vehicle, Salt, and Will Ferrell action-comedy The Other Guys both filmed action sequences in Albany in 2009. 
While it's fun to get caught up in the hype, Tinseltown is very much a business, and our appeal to its bigwigs comes down mostly to the unsexy topic of taxes, says Debby Goedeke, Discover Albany's destination services manager and Albany's film commissioner. "We have very robust film tax credits here in New York State, especially in Upstate New York," she says. What that means is filmmakers with projects of a certain budgetary magnitude can get up to a 25 percent tax credit for simply filming in the state—and an additional 10 percent, if their budget is more than $500K, for shooting in Upstate New York. Blue Creek Pictures' Richard J. Bosner, one of Paint's executive producers, says that the State's tax incentives were a big draw. (He's originally from Rochester and loves shooting in Upstate New York whenever possible.) That, and a place like Saratoga offers a film director a fresh palette. "We've seen Los Angeles in a jillion different movies for the past 100 years," says Bosner, "so it's nice to see a new setting in someplace that's unfamiliar." There's a lot less red tape, too. Green-lighting a shoot upstate is a heck of a lot easier for producers than, say, getting one done in a major metropolitan area, says Goedeke. "Really, for Albany County and a lot of our surrounding counties, there's just one point of contact," she says. For the Capital City, at least, that person is her.
Though Goedeke got her first taste of upstate filming fever in 2008, when a crew shot the Japanese-language World War II film Battle Under Orion aboard the USS Slater in Albany, things really took off the following year with Salt. Goedeke remembers getting a call from Discover Albany's president while she was on vacation. Producers for a movie starring Angelina Jolie wanted to meet with her. Needless to say, she cut short her time off. "We worked with them for about six months prior to them actually filming here in Albany," says Goedeke. "They were fabulous."
All of this filming equals a potential economic windfall for all involved, including the municipality. According to the Association of Film Commissioners International, the estimated daily cost for a big-budget feature film to shoot in a city like Albany is anywhere from $150,000-$260,000. (That range goes down to $50K-$110K for an indie film like Paint but rockets up to $165K-$300K or more for a weekly TV show like Law & Order.) For Salt, even though that per-diem total didn't include the six months crews were scouting all the locations beforehand, anyone having anything to do with the film who ventured to the Capital City was spending money on hotel rooms and meals, and just being a tourist, too. Through the first few weeks of September 2021, for instance, Goedeke says that film crews in the area had paid for more than 8,000 hotel rooms. "All of those productions utilize local crew, community services, location fees, rental fees, permits and police departments," she says. So it's truly not just the city that's getting the big check, it's the entire community.
Filming can also be a major boon for local business owners. "I never say no to a request for people to shoot here," says Vic Christopher, president of Clark House Hospitality, which owns a string of Troy restaurants and bars, including Little Pecks, Donna's Italian and Lucas Confectionery. The latter, Christopher's wine bar at 12 2nd Street, had the only façade in Downtown Troy that HBO's set designers didn't have to retrofit for The Gilded Age shoot because its signage had a period-appropriate aesthetic. "That that [sign] will live on in a potential hit show that could be an international success is very thrilling," says Christopher. Though he does admit that the HBO shoot did negatively impact his top-producing business, the 22 Second Street Wine Company, because access to it was blocked off by film crews for weeks, on the flipside, HBO's people pumped money into his restaurants and bars nearly every night they were there. Christopher even offered them space for production meetings and catered those get-togethers. "The money is unimportant," says Christopher. "That was an opportunity of a lifetime."
It may come as a surprise to some, but Hollywood is actually a bit like a small town itself, in that everybody knows everybody. "The location manager that we worked with on Salt was friends with the location manager for The Other Guys, and they needed a place to crash a car, and of course, he tells his buddy, 'Go to Albany,'" says Goedeke. Those same location managers, she says, were friends with the ones for HBO's White House Plumbers—and a member of that crew had worked with Goedeke on The Place Beyond the Pines. So it's all one big game of telephone.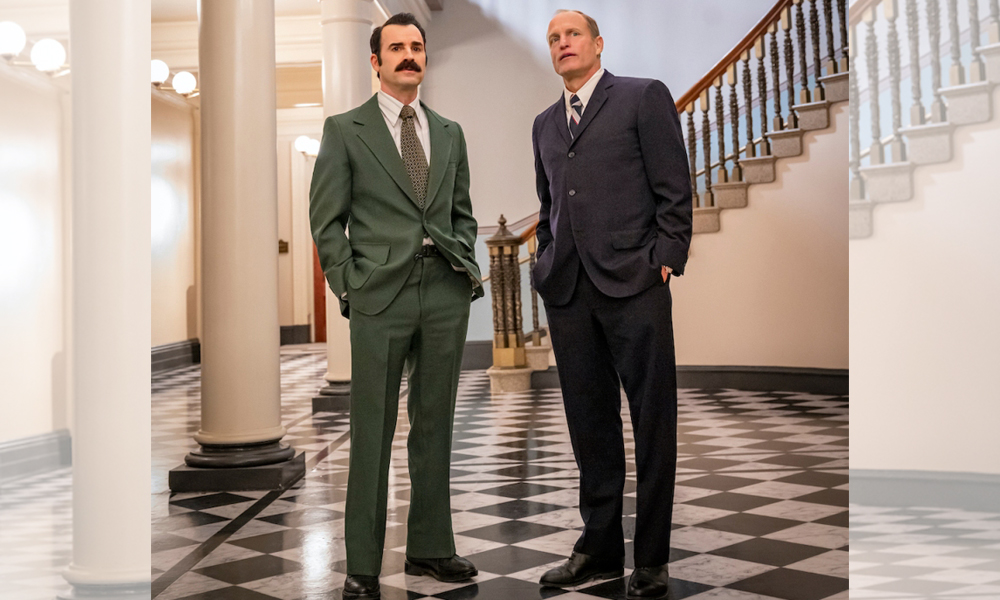 Synergies not only exist between key members of the film crews, but also the Capital Region municipalities where they happen to be shooting. The thinking is, if one city lands a gig, that will mean a boost to the greater regional economy and could act as a "reference" for a location to land future work. "We have a group that we're cementing called Film Upstate New York, which is a regional film commission," says Goedeke. "We all work together: Rensselaer County, Saratoga County, Schenectady County, Albany County and the Adirondack Film Commission. It's good for everybody. It's good for the State; it creates jobs. Why wouldn't you want to do that?" An example: After Troy secured The Gilded Age shoot, Goedeke pitched in by helping the Collar City locate crew members and free up hotel rooms in the area. She even drew up a guidebook of all the fun things in the area that crew members could do on their days off.
Now, let's pretend for a moment that some upstart RPI physicist did, in fact, zipper open space and time and invite us all to travel with her to the future. And let's just say that, on the other side, we're all gussied up, because it's the night of the Emmy Awards in September 2022 or 2023, after multiple millions of viewers have streamed The Gilded Age on HBO Max, and all the major media outlets' TV critics have fawned over the period drama. That night, the show pulls a Game of Thrones, turning into a statuette-printing machine. If any of that actually comes true, it could spell a Golden Age for Troy and the greater Capital Region. It will also likely mean that HBO crews will be back in the Collar City soon enough, shooting future future seasons of the show. It's fun to daydream, but really, something similar could happen for any of the shows or movies filmed here recently. And the best part? The Capital Region—your home—becomes part of Hollywood history forever.