The holiday season is brimming with entertaining opportunities, from Thanksgiving feasting and binge‐worthy cookie exchanges to a decadent New Year's Day brunch. Amid all of the hoopla, exactly one thing prevents a well‐intentioned party from descending into creative chaos – a well‐designed table-scapes. The right setting not only showcases all of the scrumptious eats you've lovingly slaved over, but serves as the focal point for the warm, inviting atmosphere that fosters the rich holiday memories every family cherishes.
With Thanksgiving right around the corner to kick off this decade's last parade of parties, we sat down with David Michael Schmidt of Renaissance Floral Design (1561 Western Avenue, Albany; rfdny.com) to up our table‐setting game. Schmidt has more than two decades of experience in special events and caters to clients at his spectacular showroom and shop. "I just loved the design element," he says about transiting to design from food in 1995, "and being a part of my clients' special day." Last year, the store, which is packed with unique home décor finds and stunning garden elements, underwent a major renovation and reopened in October 2018 as the largest floral designer outside of New York City. This interior design wonderland was the perfect setting to learn the right tips and tricks to carry your table from Turkey Day clear to the New Year's Day finale.
Gratitude, Bounty, and Glitter
Since the Thanksgiving table is truly the focal point of this gratitude‐filled holiday, delight your guests with a memorable table-scape that spotlights natural elements in unique presentations. Splurge on a lovely centerpiece (or two!) that incorporates the colors of the season, varying textures – and consider adding drama with some feathers and fruit. "We use locally‐grown flowers whenever possible," Schmidt says. "All the dahlias in this arrangement are from the Hudson Valley." Metallic touches such as the pewter dining set from Match Pewter (shown above) add glamour, by catching the candlelight throughout the meal and well into dessert and after‐dinner drinks.

Homemade touches such as the glitter pumpkin place cards and artichoke votives add a bit of sparkle and can be a great project to keep little hands busy. "I just sprayed the pumpkins with spray glue and added glitter," Schmidt says. "For the artichokes, I cut flat bottoms and cored them out. Put a simple glass votive holder in, and you are set!" Replace bulky salt shakers with communal salt cellars and an antique spoon to free up valuable table space. The cellar on this table is from Be‐Home, and the rich wood grain compliments the table itself.
Here We Come A-Caroling!
Cookie exchanges, tree‐trimming parties, and welcoming carolers require heaping plates of cookies, a couple of warming drinks – and not much else. Keep your table fun and whimsical by using a matched set of dishes – here, Schmidt showcases his Mackenzie Childs collection – dressed for the season with rose petals, "sugared" roses, and silk holiday picks. "We use spray glue and a larger grain of glitter to give them that sugared look," Schmidt says. Displaying your offerings in tiered vessels and footed bowls is a great way to fill the space and create a bit of drama by moving the eye vertically. This is also the perfect time to break out a fun table covering! Schmidt selected a sequined textile in rose gold that catches the light. Add a smaller floral arrangement and a tabletop tree decorated with traditional ornaments and glass baubles to keep the fantasy of the season alive. "This is the perfect place to show off your family's collection of older ornaments."
Candlelit Christmas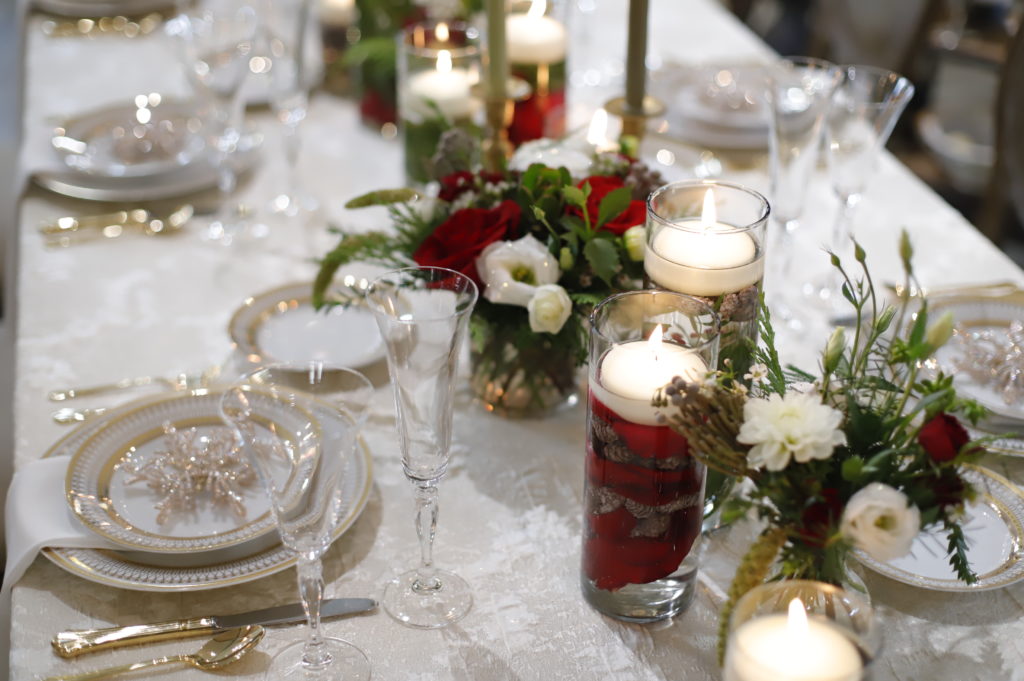 Whatever your tradition, when celebrating the high holiday of the season, keep the sanctity of the celebration in focus by using your favorite china, simple napkin presentations, a small gift on each setting, and dramatic candles in varying heights. When selecting linens, choose complementary ivory or white with pearlized elements. The pearl will reflect the glow of the candles. Small bud vases filled with glittered roses, thistle, and lisianthus, are intermingled with dramatic homemade candle arrangements using water in clear cylinder vases. These are made by layering greens such as eucalyptus, juniper, and pine with rose petals, berries, and pinecones, filling with water and adding a floating candle. "I love the cylinder arrangements," Schmidt says. "They are completely customizable and can be used over and over for about five days." Schmidt advises using candles with as high a burn time as you can find – this way your candles will last through dessert.
New Year's Day Brunch
To cap off the splendor of the season, keep your table simply dressed to welcome the new year. Clean white dishes – Schmidt selected hand made pieces from Montes Doggett and tureens from his personal Portmeirion collection – present your food offerings to guests in a buffet set‐up. Bring back the candle arrangements from Christmas dinner and add drama with a beautiful statement floral arrangement that includes belles of Ireland, juniper, hydrangea, Queen Anne's lace, celosia, and blooms of pink mink protea.
Schmidt's Chocolate Biscotti is so delicious that we may or may not have snacked on set after finishing the "Here We Come A‐Caroling" images. This recipe is perfect for catering to guests with dietary restrictions, as it is paleo, gluten‐free, dairy‐free, contains no refined sugar, and is soy‐free.
---
RFD Chocolate Biscotti by DMS
1 ½ cup almond flour
½ cup coconut flour
½ teaspoon baking soda
3 tablespoons raw cocoa powder
1 teaspoon
100% pure vanilla
¾ cup organic honey
½ teaspoon Himalayan or sea salt, fine
½ cup nuts, chopped (Schmidt prefers hazelnuts, pistachios, or almonds)
½ cup dried figs, chopped
Instructions:
• Mix all dry ingredients in a stand mixer and slowly add the honey and vanilla. • After mixed thoroughly, add the nuts and figs
• Place on parchment paper and flatten to about 1" think using another piece of parchment (mind the edges, keep them as consistent as possible.) If you DOUBLE the recipe, then use two pans.
FOLLOW BELOW EXACTLY
• Bake at 350⁰ F or convection bake at 325˚F for 15 minutes.
• Shut oven off, DO NOT REMOVE THE BISCOTTI FOR 30 minutes.
• Remove Biscotti from the oven and let rest for ten minutes. Slice and place slices back on parchment. Schmidt uses a large serrated knife to get a cleaner cut.
• Turn the oven back on and bake again for 5 minutes at the same temperature as the first bake.
• Remove from oven and cool.
• If you opt not to use the figs, the biscotti will be very hard. If you prefer a softer biscotti, store them in a zip-top bag.
Photos by Konrad Odhiambo