Sure, you could just buy your mom a beautiful bouquet of flowers for Mother's Day. Or you could do a little bit of research and celebrate your mom in a whole new way. Not interested in wasting too much time before the big day? Capital Region Living has a bunch of mom-friendly ideas below.
ZV Botanicals – There's nothing like a good, holistic-minded gift for mom on Mother's Day. And ZV Botanicals is the right place to start. The company is devoted to creating organically grown fusions of Ayurvedic herbs, full-spectrum Hemp extract and signature essential oil blends, helping heal all of mom's aches and pain through its natural remedies. ZV Botanicals offers organic, hand-crafted, small batch signature massage oils, mouth pulling oils, healing salves, therapeutic tinctures and digestive bitters.
Spraise – For women & mothers who are short on time, but know the importance of clean beauty. We vow to nourish your skin with healthy, affordable and effective products, and to keep it simple and we choose transparency, and vow to empower you to make informed choices about your body care products.
SHINYALab – On a similar front, if your mom is a stress-a-holic, why not ease her mental strain with this wonderful line of dietary supplements with ancient healing properties? ShinyaLab's wellness experts blend ancient Japanese botanicals and modern science, developing health and nutritional supplements that could be a game-changer for your mom, and help alleviate her stress-filled lifestyle. It's also been proven to help with gut health.
The Chelsea Rain Boots by ROMA Boots – These vegan, eco-friendly, multi-layered boots are made from natural rubber and are waterproof to keep your feet protected in all weather. For every pair of ROMA Boots sold, a brand new pair of rain boots are donated to a child living in poverty. The ROMA Foundation brings children and families hope, love, and lasting change by donating a brand new pair of vegan rain boots, investing in their education, and creating jobs in their communities. 
Good & Tasty Bakes – If your mom's got a sweet tooth, she'll be a happy camper when you show up at her doorstep on May 9. Good & Tasty Bakes offers a delectable assortment of cheesecakes, perfect for dessert after your Mother's Day brunch. The brand's grain-free offerings are made with no added sugar and feature locally produced butter and pure 100 percent rBGH-free cream cheese. The cheesecake's mix also has zero high fructose corn syrup, partially hydrogenated oils, artificial flavors or refined sugar or flour in it.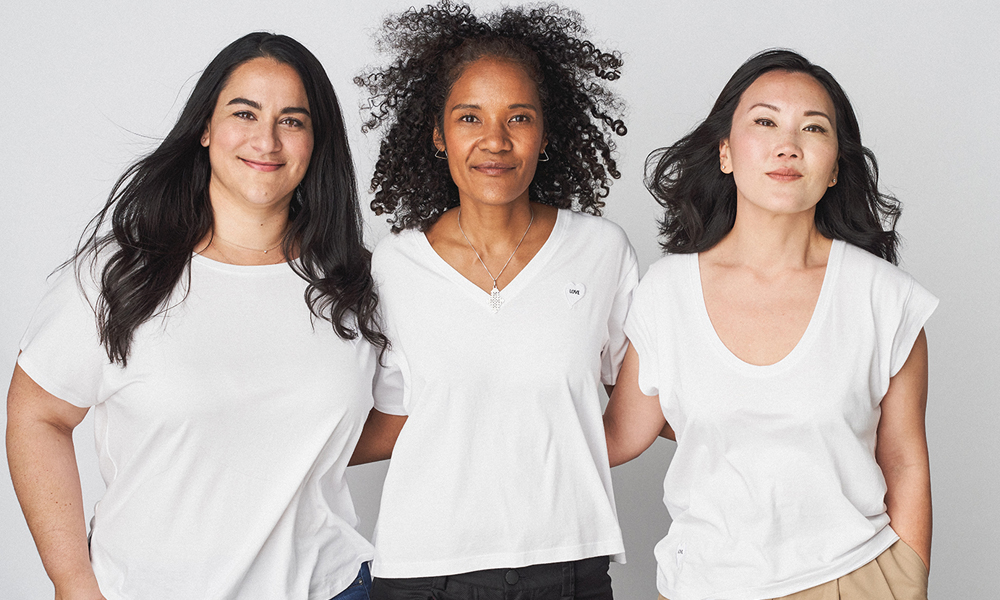 PMSPrioritizingMyself – Your mom will be styling in one of these 100 percent organic tees made by women for women. Based in Los Angeles, PMS PrioritizingMyself donates 100 percent of its profits to organizations that encompass equality and women's rights. Talk about fashion that spreads the love at a time when we most need it (a "love" patch is even stitched on the front of each shirt).
Elise Design – Nothing like a little jewelry to get a smile on your mom's face. Elise Design Company handcrafts creations made with intention and versatility that fit perfectly with your mom's modern lifestyle. Elite Design's necklaces, earrings, bracelets and more are made with love, in-house, by designer and owner Christa Elise.
BeautySoClean – With everyone being more cautious about sanitization these days, get your makeup-wearing mom on the straight and narrow with BeautySoClean, which is
essentially a hand sanitizer for her makeup. The products are dermatologist tested and safe for use on all makeup products. They're easy to use, fast-acting, and most importantly, kill  99.99 percent of viruses and bacteria in just 15 seconds without changing the consistency of her makeup.
sugaringLA – Your mom not the type who's comfortable going out just yet? Get her sugaringLA's personal sugaring kit, as part of a home-spa day. A clean beauty brand, sugaringLA kits are completely harm free and include everything she'll need to remove any unwanted hair with results she'll love: smooth, exfoliated and hair-free skin.
The Beeswax Co. – That home-spa day would go great with a little soothing candlelight. The Beeswax Co. is a premium supplier of non-drip beeswax candles, using the finest domestic beeswax on the market and 100 percent cotton wicks. Plus, candles made out of beeswax burn longer, stimulate the senses and don't require artificial dyes or scents. Naturally scented by the nectar of flowers and honey packed in the honeycomb, beeswax candles come from a 100 percent natural and renewable resource.
Backyard Candles Coconut Candles – Does mom have a sprawling backyard garden and patio? Try one of these beautiful coconut candles that provide both inner and outer peace. Each candle is handmade with up-cycled coconut shells, and its unique aromas invigorate a room (or backyard space) while creating a serene environment for relaxation and comfort. And if she wants to take one in her home-spa bath…these candles float!
Joel Nolan – Does your mom work a 9 to 5 where they allow her to burn candles at her desk? Grab one of these luxe candles from Joel Nolan, which will not only light up her space, but also keep it smelling great, so she'll have a productive day. Try Joel Nolan's three signature scents: Maverick (lime, lychee, rose and lilac), Chatsworth (bergamot and sandalwood) and 191 Sutter (orange, petitgrain and neroli).
The Garage Collective – Heck, you could get one of each of these candles for mom and make her a basket! Grab one of The Garage Collective's soy candles, or search its online hub for home decor items, kitchen and bath products or even furniture, depending on what your price-point is for mom.
Moods By NuMe – Your mom need a little Zen-ing out? Create a space that is peaceful and full of beauty for her with these products from NuMe, including the Bal Harbour candle or Moods Fifth Avenue candle scent spray. A self-care oasis is waiting for her.