Growing up, my family vacations were camping on the islands of Lake George. For me, it was the best week of the year, full of boating, swimming and s'more-making. For my parents, it was more than a little work: the boat always broke, the cooler always needed more ice and it always—always—rained.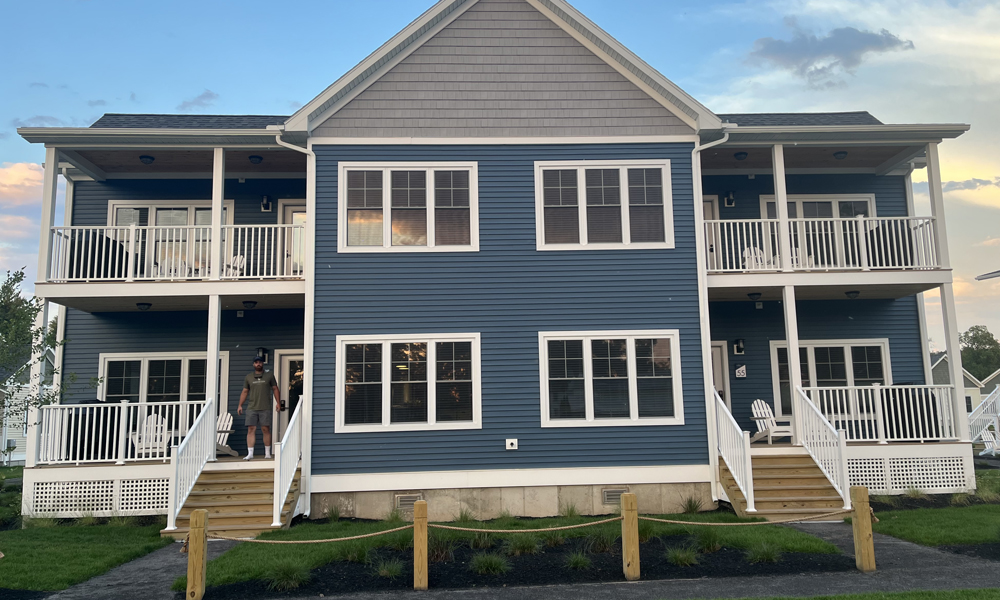 Now that I'm years into camping on my own as an adult, I understand the effort that goes into a successful camping trip. Yet, I still crave getaways to our region's beautiful lakes. Enter Oneida Lake's brand-new vacation destination, The Cove at Sylvan Beach, an unbelievably effortless lake getaway. For starters, the lakeside cottage community, which celebrated its grand opening this spring and whose season goes as far into October as the weather allows, is a two-hours-flat drive from Albany and only about 15 minutes off exit 33 of the Thruway. Before you arrive, a door code is texted to you, so you can head right into your two- or three-bedroom cottage (they sleep six and 10, respectively) when you arrive. Inside, there's a kitchen stocked with any cooking and serving supplies you'll need, beach and bath towels, and a washer and dryer. (The cottages also have central air…The Cove: 1, camping: 0.) Outside, there's a gas grill with a propane tank, a fire pit with Adirondack chairs and your very own pontoon boat in a private slip labeled with your cottage number. (Safety first: You do have to take an online boater safety course in order to take the boat out.) Just down the cove (yes, The Cove is located in a cove) is Sylvan Beach Supply Co., an open-to-the-public convenience store/ice cream parlor/candy shop/watersports equipment rental shop/ café all under one modernly beachy roof. You can charge your purchases right to your room, and the staff will even deliver bags of ice and bundles of firewood to your cottage for you. Oh, and there's a rustic-looking-but-brand-spankin'-new playground and heated community pool. No biggie.
While The Cove implements a minimum week-long stay throughout the summer months, come September, two-night stays are permitted. That's how long I was there on a recent trip, and honestly, I wished I'd had more time. We spent our one full day out on the water, nearly traversing the 20-mile-long lake (Oneida is the largest lake that's completely in New York State; you can't quite see from one end to the other). On our way back, we docked at Oneida Lake Brew Haus for a couple of beers and a basket of soft pretzels before returning home (it really did feel like home!) to change out of our swimsuits. Dinner was at The Lake House at Sylvan Beach, which is located literally on Sylvan Beach itself, right next to a small, boardwalk-style amusement park, and has a casino right in the lobby. We skipped the slots and headed straight for the restaurant, whose vibe and menu could almost convince you that you're on the ocean, not a lake.
While you could surely spend a week boating and cooking in your squeaky-clean kitchen, there's plenty more to do in and around Sylvan Beach. Some things I look forward to trying next time: nearby Turning Stone's award winning Skaná Spa, which is The Cove's sister property and incorporates American Indian practices into its modern treatments; Verona Beach State Park, which boasts a "woods and wetland" nature trail; Saturday morning beach yoga, which is put on by Simply Grow Yoga; and The Daily Grind, the cutest turquoise blue walk-up coffee/smoothie window.
The best part about The Cove though, at least for this dog mom, is that pups under 50 pounds are welcome; you don't even need to find a boarder for your furry friend. Easy-peasy, indeed.