It's that time of year again, when anglers from all over the Capital Region have a chance to put their "tackle to the test" in the King George Fishing Derby on beautiful Lake George. The fifth annual derby, boasting a generous $15,000 in prizes, will take place September 13 – 15 and offer first, second and third place prizes for the largest lake trout, largemouth bass, smallmouth bass, and landlocked salmon. The proceeds for this event will go to the Lake George S.A.V.E. ("Stop Aquatic inVasives from Entering") Partnership, which has done tremendous work in combating invasive aquatic species that threaten the ecosystem of our lake.
Let's get down to business and talk strategy! For bass, both largemouth and smallmouth, anglers will want to key in on deeper water areas in the 30‐ to 50‐foot range adjacent to sharply breaking drop‐offs. Green grass beds that hold perch, rocky main‐lake humps, and other isolated deep water structure, are good areas to start. Bass love live bait such as shiner minnows and crayfish.
If you wish to head out into the big water and pursue lake trout, you have the option of jigging or trolling, both very effective techniques. Find lake trout in three different areas: schooled up in deeper humps, suspended over deep water, and scattered about in mudflats in the 90‐ to 120‐foot range. Trolling can be very effective, and running a large spread of smelt‐imitating spoons in the 80‐ to 140‐foot range using downriggers, will certainly put fish on deck. We love our Speedy Shiners, Mooselook Wobblers, and assorted Plasma flutter spoons. Natural colors such as silver and gold, as well as orange, blue, chartreuse, and white, all have their place in the trolling spread. Experiment with your speed between 1½ – 3 mph to figure out what gets them fired up.
If a wiley landlocked salmon is your target for the weekend, trolling will be the technique of choice, as these nomadic creatures love to move about from day to day and week to week. Covering water will help you locate schools of these "silver bullets" as they roam around the basin hunting schools of perch, smelt, and other small forage. Similar lures for targeting lake trout can be used to chase salmon, as they often are feeding on the same things. We love our salmon fishing as they can be tremendous acrobats and are known for their unpredictability once hooked!
We wish all participants tight lines and good luck! Even if the fish don't cooperate, we know all anglers will enjoy a weekend of fun on one of the most beautiful lakes in the country. We are blessed to have such a wonderful resource right here in the Capital Region!
Joey Greco is an NYS licensed guide with Justy‐Joe Sport fishing charters (newyorkfishing.com) Joey's philosophy on fishing and his recipe for success is to think like a fish, pay attention to details, and never stop learning!
And on land…
If fishing isn't your thing, but you still want to take in the sights of Lake George during the Derby, here's some ideas.
9/13 – 9/15
9 AM – 3 PM
Concours D'Elegance – Festival Commons at Charles R Wood Park, Lake George; Whether it is American muscle cars, prewar Rolls‐Royce or vintage race cars that gets your motor running, you will find it at this annual event. For more information, visit hemmings.com.
9/14
6 AM
ADK 5K and Beer Festival – Adirondack Pub & Brewery, Lake George; Lace up your running shoes and grab your best buddies to compete in the 5K. Follow it up with the beer and music festival at the brewery. Visit greatamericanbreweryruns.com for more information.
9/14 – 9/15
Various Times
Jazz at the Lake: Lake George Jazz Weekend – Shepherds Park, Lake George; For more than 35 years, Jazz at the Lake has been bringing world‐class jazz and the beauty of Lake George together to celebrate this truly American music. Call 518.668.2626 for the schedule and additional information.
---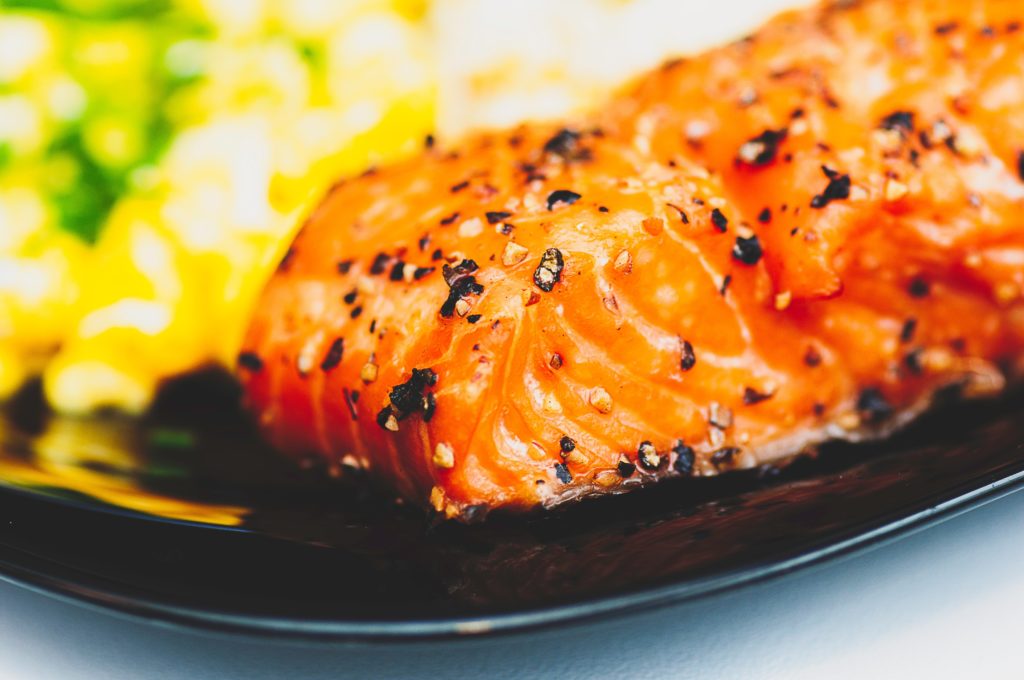 Grilled landlocked salmon "Power Bowl"
Courtesy of Chef Joey Greco
This super-healthy entrée features landlocked salmon, but you can substitute any other kind of salmon. The components of this dish are the grilled flaked fish and a vegetable mixture consisting of kale, edamame, and squash, plus quinoa – all considered to be "superfoods," packed with vitamins and nutrients.
Ingredients, fish
3 pounds of salmon fillet
Olive oil
1 tablespoon onion powder
1 tablespoon sesame seed
Salt and pepper, to taste
1 teaspoon ground ginger
• Season the fish with the oil and spices. Grill for about three minutes each side until fish flakes easily.
Ingredients, vegetable mixture
1 bag washed and trimmed kale
1 butternut squash, peeled and diced
1 bag shelled edamame sautéed with a bit of sesame oil and tamari and kept warm
½ small red cabbage, finely shredded
½ red pepper, finely diced
Instructions, vegetable mixture
• Toss the squash and kale in 1 tablespoon of olive oil and roast on a sheet pan at 375° F for about 20 minutes, stirring occasionally, until tender.
• Allow to cool slightly and then add the pepper and cabbage.
• Keep warm until ready to assemble.
Instructions, grains
Any quinoa will work for this. Use a 1:1 ratio of water to grain and cook according to manufacturer's suggested cooking instructions. Keep warm until ready to assemble.
Ingredients, miso dressing
¼ cup miso
¼ cup lemon juice
½ cup canola oil
1 tablespoon dark sesame oil
2 tablespoon fresh ginger, minced
1 jalapeno, minced, optional
• Whisk all ingredients to combine.
Assembly
Spoon about 1 cup of the quinoa into a serving bowl.
Top with about 1 cup of the roasted vegetable mixture and 4 to 6 ounces of flaked cooked salmon.
Drizzle the miso dressing over the top and garnish with some finely sliced scallion if desired. Enjoy!