My years as a professional travel blogger and women's retreat company founder have brought me around the world—but my time here at Capital Region Living got me to explore my own backyard. For that, I'm forever grateful.
While my year and change as a regular columnist here is coming to a close, I know that from time to time I'll return, as I do to all of my favorite destinations.
For now, I'm ending on a high note—literally—with a story about my recent trip to Greene County's Hunter Mountain in the Great Northern Catskills.
Growing up in Albany, I had a pretty significant obstacle to overcome: I hated winter.
As soon as I was able, I moved to warmer climates. A few years ago, however, my life unexpectedly brought me back to the land of four seasons for awhile. After a brutal stretch bracing against reality, I finally started to warm up (no, not literally) to the idea that my Capital Region neighbors had been sharing with me my whole life: To survive winter, you must embrace a winter sport.
I grew up skiing, and while I wasn't very good to begin with, I certainly got rusty after 10 years of swapping snow for sand. So, I vowed to go skiing at least once a season. This pledge brought me to several area slopes—Jiminy Peak right across the border in Massachusetts, and West Mountain due north in Queensbury, to start.
Next on my list? Hunter Mountain. Since dipping my boot back into the ski world, I learned that Hunter is the mountain for New York City residents escaping north. From Albany, it's less than an hour's venture south.
Scribner's Lodge was long on my bucket list of places to stay in the Empire State. A true four-seasons destination, I was drawn to its particularly winter-focused offerings, which include an outdoor barrel sauna, an onsite skating rink and numerous fire pits strewn about the property. 
Each unique room is a sanctuary; some have fireplaces, others balconies or cozy indoor seating areas. Upon arriving for a long girls weekend with my friend Jess, we were welcomed with a bottle of wine, s'mores kit, hand-illustrated map of the area, and charming hand-written note.
As a result of a check-in snafu, the genuinely apologetic Scribner's staff treated us to Sunday-evening dinner and delicious cocktails at Prospect, the hotel's Brooklyn-esque onsite restaurant. The Howling Sun cocktail, featuring pear eau de vie, Dolin dry vermouth, Cocchi Americano, Asian pear, Verjus and absinthe, was a particular treat. It was, I hoped, an omen for a bluebird ski day to follow.
Mondays and Tuesdays are sleepy on the mountain, as one Prospect bartender had warned me. They are the nights Prospect is closed, though the lodge hosts pop-ups of other local restaurants in its place—on our trip, hot spot Hyphen was serving delicious chili and elevated tater tots.
There's plenty to explore beyond the hotel, of course. Fellow Café, a serene bakery serving breakfast, lunch and grocery items, is a standout in Hunter, as are Elevated Wine and Spirits and Hunter Mountain Brewery if you want to stock up on wine or brews to sip by your very own fireplace. 
More options are available in Tannersville, the slightly (emphasis on slightly) bigger and buzzier town 10 minutes down the road. Tannersville is reminiscent of a quainter Woodstock, with a cute yoga studio, a chic home design store, and plenty of charm. Lovers of green juices and hearty salads, usually adrift in a ski town, will be thrilled by Maggie's Crooked Café, a must-visit for small-town smiles and healthy hits.
Most winter visitors are fueling up for one main reason: hitting the slopes at Hunter Mountain. From the picturesque snow on the trees to the dramatic icicles dripping from the mountain, I felt like I was in an arctic-themed screensaver. While our early-in-the-season visit and limited skills meant we had a narrow list of slopes to hit, I can see why Hunter is so beloved by New Yorkers from all corners of the state.  
Skiing may be a winter classic, but back at Scribner's, we tried something fresh: glice skating, an alleged eco-alternative to ice skating that doesn't require water or energy to freeze said water. While we both agreed nothing compares to the real thing, at $5 per skate rental, it's worth it for the novelty—and the amazing sunset views.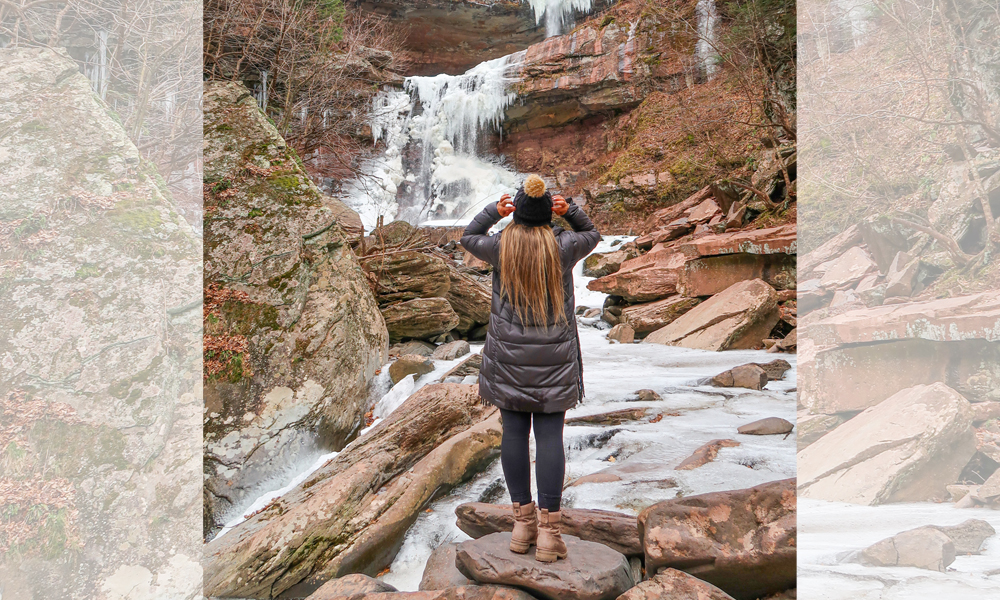 Those itching to hit a trifecta of winter activities should also set their sites on nearby Kaaterskill Falls, the highest cascading waterfall in the state, dropping more than 260 feet over two tiers. From the Lauren House trailhead, it's just over 1.5 miles round trip to wander to a dramatic overlook before circling down to the base of the falls. The icicles dripping from the falls made for a dramatic sendoff, and a reminder that there is indeed wonder in the winter. 
It's been an honor sharing a few of my favorite corners of New York, in all seasons, with you. Bon voyage, and I'm sure I'll see many of you on my return visits home to the Empire State.  
This doesn't have to be goodbye! Follow the international adventures of Alexandra Baackes on her award-winning blog, Alex in Wanderland (alexinwanderland.com), where women can also peruse her diving and yoga retreats held in far-flung locales around the world.