CRL
breaks down the podcasts, shows, books and movies you should be getting familiar with this summer.
By Morgan Fechter
Podcasts
Local: The Historians
Amsterdam native Bob Cudmore hosts this weekly podcast exploring the rich history of the Mohawk Valley. Cudmore interviews notable Mohawk Valley residents about our region's fascinating past, covering everything from architecture to industries and celebrities. Be prepared to gain a new appreciation for our neck of the woods.
Listen on either bobcudmore.com or Apple Podcasts
Topical: Horse Racing Happy Hour
You don't have to wait until 5 o'clock to enjoy this happy hour. Every Thursday, grab your favorite drink and tune in to the Horse Racing Happy Hour podcast, on which hosts Megan, Mike and Louis recap the most important events in the world of horse racing.
Listen on Apple Podcasts
Just for Fun: The Happiness Lab
It's no secret that many of us are measuring low on the happy-o-meter right now. In this podcast, Yale professor Dr. Laurie Santos explains the research behind the concept of happiness and provides helpful advice for living a happier, more fulfilling life.
Listen at happinesslab.fm or through Apple Podcasts
New: The 27 Club
Music fans will love this new podcast dedicated to the lives of musicians who died at age 27, a hallowed list that includes idols Jimi Hendrix, Kurt Cobain and Amy Winehouse, among others. The first season focuses on Hendrix, with each episode chronicling a different story from the music legend's tragically short life.
Listen on either 27clubpod.com or Apple Podcasts
TV Shows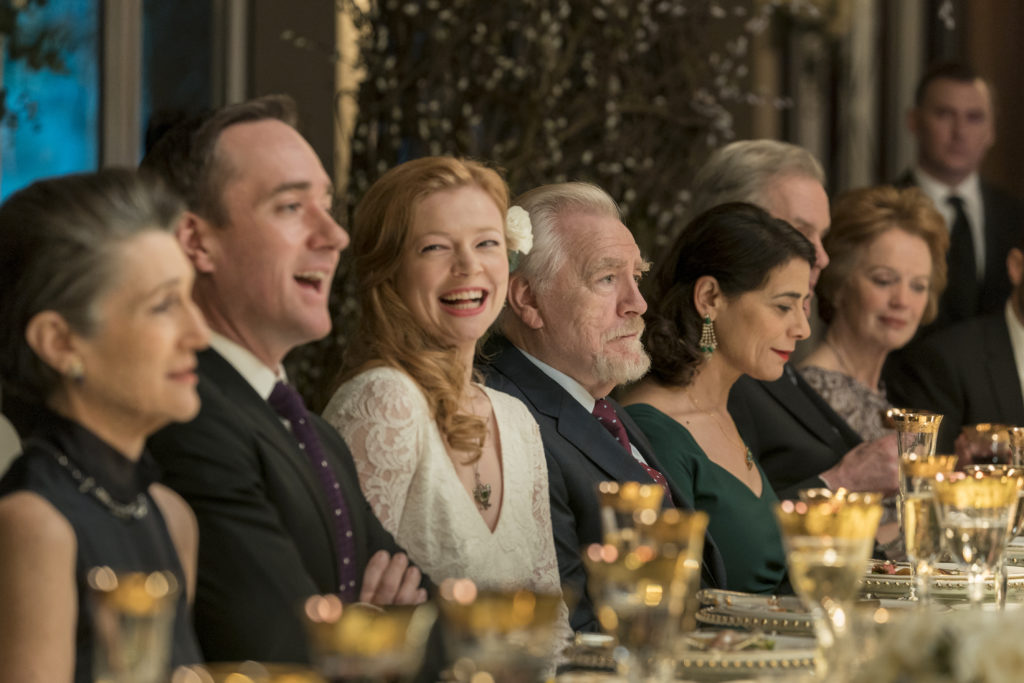 Local: Succession
Take a break from your own family drama and tune in to a fictional one about the Roy clan, dysfunctional media moguls who are fighting for control over their aging father's empire on HBO's hit series Succession. Keep an eye out for the scenes filmed last summer in Albany, Lake George and Lake Placid.
Available on HBO
Topical: When They See Us
This Netflix miniseries tells the true story of the Central Park Five, a group of five teenagers of color falsely convicted of attacking a white female jogger in Central Park in 1989. Director Ava DuVernay's four-part series explores the factors that led to the conviction and its aftermath, tackling topics of racism and incarceration.
Available on Netflix
Just for Fun: Schitt's Creek
If you haven't already binge-watched all five seasons of Schitt's Creek, now is the time. The Canadian sitcom, whose much-anticipated final season aired earlier this spring, exposes the hilarity (see Catherine O'Hara, Eugene Levy and his scion, Daniel Levy) of a once-wealthy family adapting to life in the titular, middle-of-nowhere town after they lose everything.
Seasons 1-4 available on Netflix
New: White Lines
The sister of a famous DJ, who was murdered on the infamously decadent Spanish island of Ibiza, sets out to find the truth about his mysterious death. In the meantime, she meets up with his old party crew who would rather not dig up the past.
Available on Netflix
Books
Local: Caffè Lena: Inside America's Legendary Folk Music Coffeehouse by Jocelyn Arem and Joe Alper
This book traces the history of Saratoga Springs landmark Caffè Lena, from its inception 60 years ago and onward. Flip through more than 200 images and interviews depicting some of the most notable artists from the venue's heyday, including the incomparable Bob Dylan.
Topical: Between the World and Me by Ta-Nehisi Coates
This 2015 nonfiction bestseller explores the role of race in America through the eyes of journalist Ta-Nehisi Coates. Written in the form of a letter to his son, Coates' book is deeply personal in its depiction of the reality of what it's like being a black man in the United States today.
Just for Fun: Educated by Tara Westover
Tara Westover's No.1 New York Times best-selling memoir about her upbringing by survivalist Mormons in rural Idaho should be your next socially distanced beach read. Bill Gates put it best: "It's even better than you've heard."
New: American Dirt by Jeanine Cummins
This 2020 novel tells the story of bookstore owner Lydia Quixano Pérez, who is forced to flee her home in Acapulco, Mexico when her husband publishes an exposé on a local drug cartel. Stephen King described this novel as "extraordinary," and it was one of Oprah's Book Club picks. Need we say more?
Movies
Local: A Place Beyond the Pines
Anyone who was living in the Capital Region eight years ago will remember when Ryan Gosling, Eva Mendes and Bradley Cooper descended upon Schenectady to film A Place Beyond the Pines, a fictional story based in the Electric City. It's certainly not a happy tale but is definitely worthy of a viewing (or rewatch).
Topical: Contagion
This 2011 thriller has been trending on Netflix since the COVID-19 outbreak occurred earlier this spring. The film, which depicts the spread of a respiratory virus culminating in a global pandemic, bears an eerie resemblance to our current situation.
Just for Fun: Emma
Fans of period pieces will love this charming film adaptation of author Jane Austen's classic novel. Escape 2020 and get lost in the Regency-era world of Emma Woodhouse, where the most pressing concern is finding a suitable husband.
New: The Way Back
This sports drama, starring Ben Affleck, has garnered widespread praise since its release in early March. Affleck plays an alcoholic-construction-worker-turned-high-school-basketball-coach trying to lead an underdog team to victory. The film is a reminder that sometimes people (in real life and on screen) deserve a second chance.